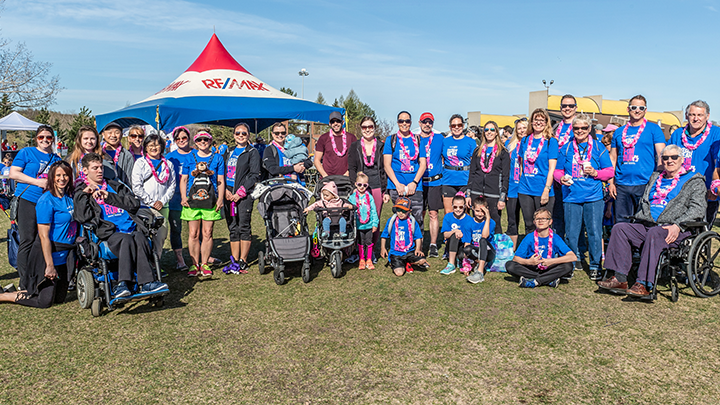 Stollery Care Bears team members showed up in full force at the Stollery Children's Hospital Foundation Teddy Bear Fun Run on May 11.
Stollery Children's Hospital Foundation salutes staff for their dedication to kids
Story by Amelia Schofield
EDMONTON — This year's Teddy Bear Fun Run for the Stollery Children's Hospital Foundation drew hundreds of participants, including a team of more than 40 employees from hospital itself.
Celebrating its third year, the event has enjoyed significant growth each year. This year's May 11 event raised more than $255,000 (gross) to support hospital initiatives such as pet and music therapies, peer support programs and the Awasisak Indigenous Health Program.
Christine Westerlund, senior operating officer of the Stollery Children's Hospital, says that her employees' involvement in the run began early on.
"The first year I attended and kind of got my feet wet," she says. "For the second one, we started a team but it was a smaller team. And then this year, we let staff and teams know that they're welcome to submit teams of their own, but that we would also have a Stollery team overall."
She adds that they also now allow family and friends to participate — creating an opportunity for staff to demonstrate family-centred care out in the community.
"A part of the Stollery culture is to be family-centred in the care we provide to patients and families, and so it made sense for us to continue that trend of being family-centred by welcoming people to have their family and friends join our team as well."
Calling themselves the Stollery Care Bears, participants donned pink leis to show their team pride throughout the event.
"Since we weren't all walking together, we wanted it to be obvious that there was a presence as to who was on the team at the event."
On top of those who took part in the run, other staff, family and friends made donations to support the team.
According to Westerlund, coming out for the Teddy Bear Fun Run is one way of showing their team's support of the Foundation.
"The Foundation is a huge partner of the Stollery and we work very closely with them," she says. "They help support a variety of priority areas at the Hospital, including equipment, capital projects and programming."
"They support excellence in care and when we look at things we bring forward to them, we think about how we can bring that care and the patient experience to the next level."
Mike House, president and CEO of the Stollery Children's Hospital Foundation, expressed the Foundation's gratitude toward AHS staff who've participate in the run and continue to support their work.
"You can have the best equipment, best programs and best facilities, but what truly makes the Stollery so world-class is the staff," says House.
"To see the 'Stollerific' staff at the hospital come out to Teddy Bear Fun Run shows how dedicated they are to these kids. Thanks to the staff for supporting the foundation and for making a difference for kids and their families from backyards across Alberta and beyond."
Find out more about the Stollery Children's Hospital Foundation and how you can show your support.
AHS recognizes May as Health Philanthropy Month. Throughout the month, we're celebrating physicians and staff who generously support our foundation partners across Alberta. See how you can make a difference at ahs.ca/give.