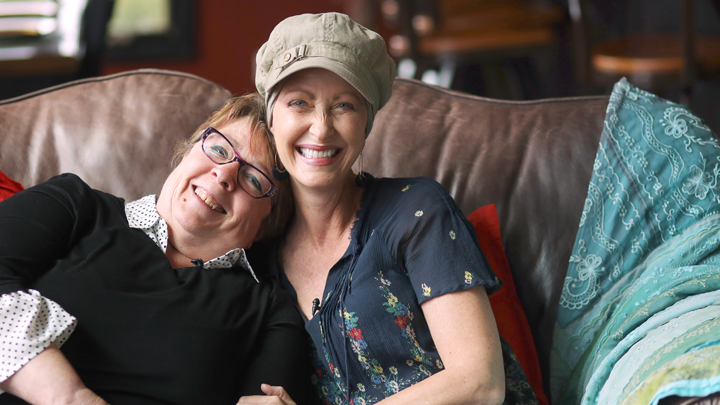 Louise Smith-Hansma, left, a Licensed Practical Nurse, shares a conversation and bonding moment with her client Kimberly Hallgren.
Asking patients this simple question builds trust and brings comfort
Story by Yolanda Genu | Photo by Leah Hennel
ECKVILLE — Improving patient care can be as simple as asking: "What matters to you?"
These four little words are making a positive difference in the well-being of patients and clients, who say these conversations with their caregivers are most welcome and appreciated.
The "What Matters to You? Day campaign — which champions meaningful exchanges between patients and healthcare providers — originated in Norway in 2014 and has grown into a global movement. This year, the day falls on June 6.
When healthcare providers start a conversation by asking what really matters, it helps them to build trust, develop empathy and better understand patients and families.
"I was grateful to have Louise Smith-Hansma as my home care nurse. She was aware of my needs at my most vulnerable time because she knew what mattered to me," says Kimberly Hallgren, a former home care client who met Smith-Hansma last June.
At the time, following a Stage 3 ovarian cancer diagnosis, Hallgren found herself recovering from an infection as a result of emergency ostomy surgery and chemotherapy.
"Cancer came out of the blue," says the 51-year-old, who lived a healthy lifestyle, did yoga daily and never smoked. "For a fit woman like me, it was scary."
What mattered to Hallgren was getting better, being able to practise her yoga and spending more time with her family.
"Smith-Hansma changed the schedule for my wound dressing when I wasn't able to make it. She also talked to my yoga teacher about what I could and could not do, as I wanted to continue my yoga practice. I admire her greatly for that," Hallgren adds.
"She's dedicated, and she put my needs first. Her best trait is making me feel safe and trust her."
Smith-Hansma, a Licensed Practical Nurse who often provides wound care, says what matters to her clients can be as simple as rearranging home care visits, so they can see loved ones without missing appointments. "I always try to put my clients first."
"Asking clients 'what matters to them' can be empowering," says Emma Currie, care manager for Sylvan Lake and Eckville Home Care in Seniors Health. "A client's request can be: visiting family; sitting up on the recliner; having coffee on the deck; wanting to get better and go home; wanting to see or visit pets. Whatever it is — it matters to them — and it's about that human connection."
More often than not, the 'asks' of clients can be provided, says Doug Buwalda, a senior advisor in Engagement & Patient Experience.
"By asking the question, we show clients we care," he says. "We show them that they are more than the illness or health condition we are providing care for."
After several weeks of receiving wound care at home, Hallgren grew stronger and felt better. To encourage her healing and to help her move beyond the isolation of home care, Smith-Hansma suggested she venture out on her own for wound care at the local clinic.
"I appreciated being pushed while having my husband and daughter in my corner inspiring me because one can get consumed with fear," says Hallgren, who took the advice.
Now cancer-free, Hallgren says she's grateful for Smith-Hansma's professionalism, wisdom and unfaltering courage to support her healing.