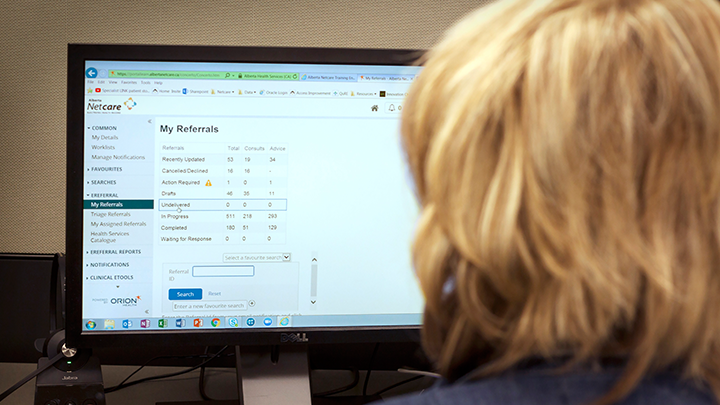 The eReferral process helps improve patient care and delivery.
Jodi Glassford is a 2019 President's Excellence Award winner for Outstanding Achievement in Service Excellence. Jodi's leadership and contributions to Alberta Netcare eReferral, Alberta Referral Pathways and Quality Referral Evolution have improved communication and transparency in the referral process, resulting in better patient access to appropriate and timely care.
eReferral improving speed of information transfer
Story by Angela Unsworth | Photo by Gordon Jones
Alberta Netcare eReferral is transforming how referrals are managed for patients across the province by improving information transfer between physicians, and reducing the potential for appointment delays or lost information.
"Traditional methods of referral—like fax, mail or phone—can get lost in transit, go missing or don't end up where they're supposed to," says Jodi Glassford, provincial director of Access Improvement. "This can cause unnecessary patient delays and has the potential to impact a patient's health outcome. eReferral is here to help solve these issues."
Alberta Netcare eReferral is Alberta Health's first online referral system that allows physicians and clinical support staff to create, submit, track and manage referrals electronically. Starting in 2014 with breast cancer, lung cancer and orthopedic surgery, it has helped the province develop standards for the consultation request process and now supports 28 specialties across the province with Advice and Consult Requests. Since the launch, Alberta Netcare eReferral has received more than 35,000 requests.
"Advice Requests support patient care in the community," says Glassford. "Within five calendar days, specialists respond to questions from physicians who, in about 40 per cent of these cases, can continue to manage their patients in their medical home, avoiding an in-person specialist appointment. Consult Requests, on the other hand, are requests for in-person specialist appointments."
"eReferral is ultimately here to help patients," says Dr. Chandra Thomas, nephrologist in the Calgary Zone, and champion of the system. "In many cases, an Advice Request response provides timely recommendations to primary care physicians. Also, every eReferral request is tracked, which prevents patients from falling through the cracks. The transparent wait times also gives patients a timeline for when they can expect to see a specialist.
"With eReferral, I'm able to see a patient's information, attach relevant articles for other physicians to review, and provide additional information to the family doctor."
Earlier this year, the Access Improvement team worked on an initiative to give community-based physicians the opportunity to create high quality referrals in their main electronic medical record (EMR) systems that are similar with those created in eReferral. The new template—QuRE consultation/referral request and response—is now available to physicians using TELUS MedAccess, TELUS Practice Solutions, TELUS Wolf and QHR Accuro EMR systems, and ensures that every referral made has important information included.
"Many referrals are missing key information, including a clear reason why the patient is being referred, when sent to specialists," says Glassford. "This can cause unnecessary delays, duplication of efforts, not to mention patient/clinician frustration. With the new template added to these EMRs, clinicians have patient information at their fingertips and can better triage patients so they can be seen by the right people at the right time."
Alberta Netcare eReferral is part of a growing number of initiatives supporting electronic consultation in Alberta. AHS' Connect Care has leveraged learnings from the eReferral experience to help establish province-wide standards, terminologies and processes supporting closed-loop referral management.
For more information about eReferral, go online or email the Access Improvement team at access.ereferral@ahs.ca.