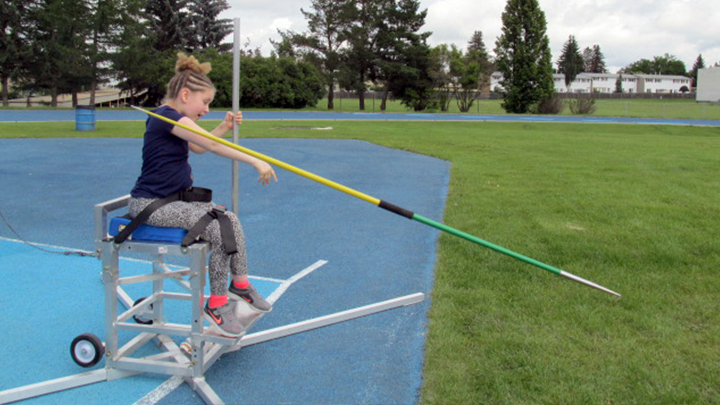 Jordan Gagnon, 8, enjoys track and field activities at Wheelchair Camp. For one week, children who use their wheelchair as their main mode of transportation can join in activities to help them navigate challenges and barriers within their environment. Sports, cooking and venturing out into the community keep the campers busy.
Glenrose gives kids a chance to learn and adapt to their environment
Story by Vanessa Gomez | Photo by Amy Millar
EDMONTON — Jordan Gagnon got to enjoy a unique experience for one week this summer at the annual Wheelchair Camp at the Glenrose Rehabilitation Hospital (GRH).
The eight-year-old has been using a wheelchair since January, due to a degenerative disease known as giant axonal neuropathy. The condition affects the central and peripheral nervous systems with a gradual loss of movement and sensation, making it difficult to attend more traditional summer camps like other children.
But when Jordan learned she would be able to attend Wheelchair Camp, she could hardly contain her excitement or enthusiasm about learning new tricks in her wheelchair.
"It's hard to find a camp that's inclusive," says Christa Gagnon, Jordan's mother. "Lots of camps try to have those extra services, but the Glenrose just feels comfortable. The people here know her needs and there's lots of one-on-one interaction."
Thanks to a collaborative effort between physiotherapy, recreation therapy and occupational therapy, the camp helps children develop wheelchair skills through fun activities such as sports, cooking and venturing out into the community.
"A big focus of the camp is for attendees to learn how to negotiate barriers and challenges within their environment in their wheelchair so they are functional," says Kim Knutt, program lead for the Specialized Rehabilitation Outpatient Program in pediatrics (SROP). "We want them to be actively participating with their friends and families in the community."
This year's activities included a day of track and field, taking public transit to the swimming pool, attending the Street Performers festival and making pizza with the director of NAIT's culinary program, Jeff Gordon. These activities helped camp attendees to learn about wheelchair access in public spaces and how to manoeuvre and adapt to different environments — while picking up some new tricks in their wheelchairs.
"We try to make sure we challenge the kids with a variety of activities they can adapt to," says Amy Millar, a pediatric physiotherapist at the GRH who has been working with the Wheelchair Camp for the last five years. "It's nice to see how the kids progress with their skills and share their experiences with us. They really grow and take ownership."
For Christa, she takes comfort in knowing her daughter is in good hands at the Glenrose and is able to enjoy a week of summertime fun.
"Everybody at the Glenrose is so amazing and attentive. It's nice for her to have a 'normal week' and make it possible for her to enjoy all the things about summer camp."