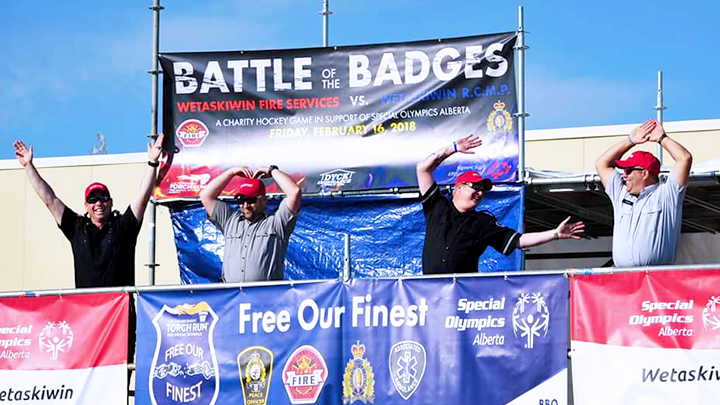 Jim Jones with AHS Protective Services, far right, dances to the YMCA song with other volunteers at the 2018 Free our Finest fundraising event in Wetaskiwin.
Protective Services hits the roof for Wetaskiwin Special Olympics
Story by Heather Kipling
WETASKIWIN — Alberta Health Services' (AHS) Protective Services members will join other first responders for the fifth annual Free Our Finest event here, Sept. 13-15. The event will see first responders ascend to the roof of the local Walmart where they will remain until Sunday afternoon, all in the name of raising funds for Wetaskiwin Special Olympics and the Alberta Law Enforcement Torch Run.
Jim Jones, community peace officer with AHS, is the event coordinator and has been a supporter of Special Olympics and the Law Enforcement Torch Run for many years.
"It's something special to be a part of," says Jones. "It's a great group of first responders who take part from so many agencies, and the support from the community is incredible.
"I feel it's an honour to be able to support an organization like Special Olympics because it brings so much to many amazing kids."
Jones first took part in the event while serving with the RCMP, and has remained involved since retiring and joining the ranks of peace officers with AHS' Protective Services. He will remain on the rooftop the entire time, joining peace officers from Wetaskiwin County, paramedics with Associated Ambulance, and members of the Wetaskiwin Fire Services as they take a turn on the scaffold.
"I'm very grateful for the support and the opportunity from my team at AHS to keep doing this," says Jones.
In addition to the first responders camping out on the rooftop, the event will offer a street dance, displays of emergency vehicles and equipment — including AHS vehicles — a barbecue and a performance by Indigenous dancers. There will also be a memorial for local firefighter James Gilbert who passed away earlier this year.
The event wraps up Sunday with a pancake breakfast before the crew will make their way down from the scaffolding. Members of the public are encouraged to help Free our Finest and support Special Olympics by stopping by to make a donation, or by purchasing a hotdog or pop at the event.
After the event, Jones will be heading south of the border to represent AHS and the Law Enforcement Torch Run for Special Olympics Alberta in the Law Enforcement Torch Run International Conference in Colorado. While there, he will take part in the opening and closing ceremonies and carry in the Guardians of the Flame with three other International peace officers.
"It's such an honour to be part of something so symbolic and so special," says Jones. "I cried the first time I participated because it's just so incredible. You meet such inspiring athletes who think you are a hero, that you're amazing — and really, you've done nothing compared to them.
"You're very humbled by the experience and those you meet."