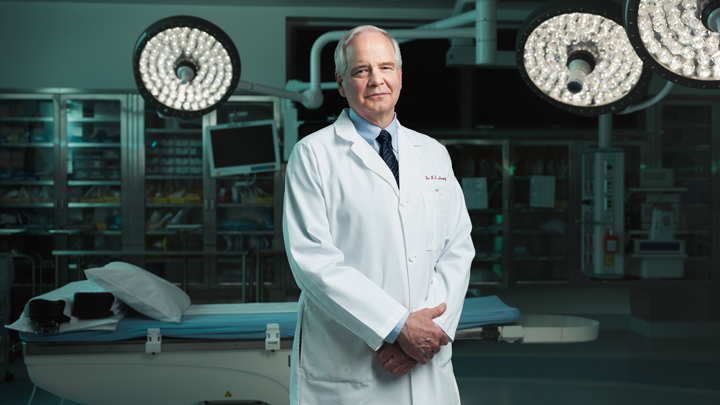 The newly announced Dr. Keith Aronyk Fund will support advancement of neurosciences at the University of Alberta Hospital (Dr. Keith Aronyk pictured here).
University Hospital Foundation backs fund to honour renowned neurosurgeon
Story by Amelia Schofield
EDMONTON — Dr. Keith Aronyk, a renowned neurosurgeon at the University of Alberta Hospital (UAH), is being honoured with a new neurosciences fund in his name.
Established through the University Hospital Foundation (UHF), the Dr. Keith Aronyk Fund will support education, recruitment and research in neurosciences at the UAH and the University of Alberta. Fellow physicians and community supporters created the fund to recognize Dr. Aronyk and thank him for his contributions to medicine.
"Thank you to the foundation, physicians and community members who have come together and created this fund," says Dr. Aronyk. "I'm honoured to have this fund created in my name and look forward to seeing its impact on patients at the UAH."
Practising at the UAH since 1985, Dr. Aronyk has cared for thousands of patients over the course of his career. He's also a dedicated volunteer in his community, and a supporter of the foundation's Brain Centre Campaign.
As a campaign champion, Dr. Aronyk has helped shape the future of advanced brain care in Alberta. With his support, the UHF raised more than $60 million toward the campaign, which helped bring the best technology and healing environments as well as neurologists and neurosurgeons to the UAH.
According to Dr. Aronyk, the Brain Centre Campaign has been instrumental in bringing the UAH to the forefront of neurological care.
"No initiative in Alberta could affect the lives of so many patients, in such a profound way," he says.
Beyond his contributions to patient care and healthcare philanthropy, Dr. Aronyk is also known for his collaborative approach with other healthcare professionals, including his support of the nursing profession.
During his career, he's also served as a PhD advisor and spoken at nursing seminars, workshops and conferences. In 2018, the College and Association of Registered Nurses Alberta (CARNA) awarded him the CARNA Committee's Choice Award for Nursing Excellence to recognize his contributions.
Through the Dr. Keith Aronyk Fund, new initiatives will be created to further advance neurosciences at the UAH. They will include:
A new award in Dr. Aronyk's name for the recruitment and residency training program
A fellowship in neurosurgery
A lecture series
Research related to innovations in neurosurgery
Cross-discipline clinical research and education
And enhancements to patient care, including investments in technology and leading-edge equipment.
In addition to support already received, the UHF is currently raising $1.5 million toward the fund. These donations will help heighten the fund's impact on neurosciences at the UAH.
"Brain patient care in Northern Alberta and vast areas across Western Canada would not be what it is today without the leadership, commitment and drive of Dr. Keith Aronyk — not to mention his skills as a world-class brain surgeon," says Joyce Mallman Law, president of the University Hospital Foundation.
"It's an honour to be a part of the Dr. Keith Aronyk Fund that will help ensure his legacy of providing brain patients access to the very best treatment will continue at the University of Alberta Hospital."
To further recognize Dr. Aronyk's contributions, the UHF is also collecting stories and photos of him with grateful patients.
For more information, or to donate or submit a story in support of the fund, please visit DrAronykFund.ca.