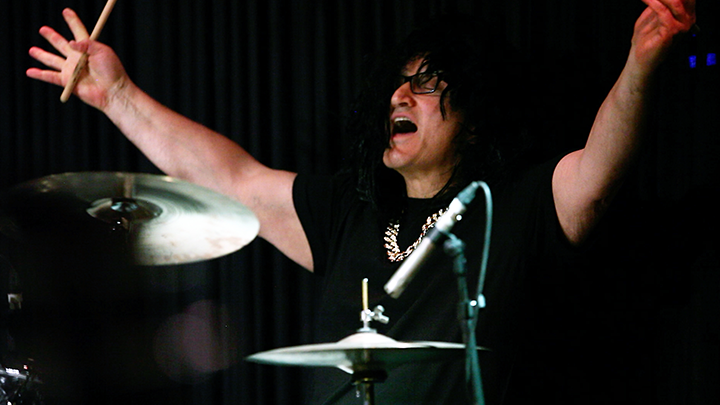 Dr. Sid Viner, Zone Medical Director for Calgary Zone, plays the drums at the AHS Physician Concert held in support of the United Way on Sept. 29 in Calgary.
Photo by Kerianne Sproule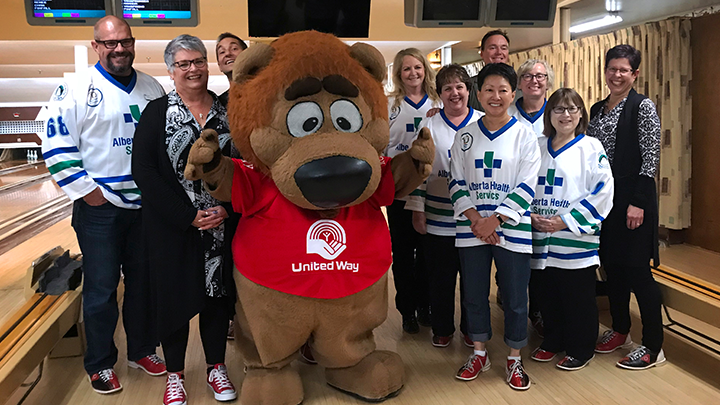 Representatives of AHS leadership pose with Roary, the United Way mascot, at a bowl-a-thon held Sept. 26 in Edmonton to support United Way. From left are: Todd Gilchrist, Laurie Anderson, Dr. Mark Joffe, Roary the mascot, Dr. Kathryn Todd, Deb Gordon, Dr. Verna Yiu (president and CEO of AHS, in front), Rob Yager (in back), Deb Rhoades, Ronda White and Lorelei Johnstone.
Photo by Ameia Schofield
Employees rally together to support communities across Alberta
Story by Amelia Schofield
Staff and physicians have come together again for this year's AHS' United Way Campaign, which runs from Oct. 1 until Nov. 1. Every dollar raised will help individuals and families break free of the poverty cycle towards a healthier future.
Over the next five weeks, employees will be invited to participate in events, donate through payroll deduction or give a vacation day to support the United Way. Alberta Public Laboratories also joins as a partner this year.

Fundraising efforts have already begun, with recent events in both Edmonton and Calgary Zone.
The first event was the highly successful Edmonton Zone United Way Kick Off Bowl-a-thon on Sept. 26, which attracted more than 70 bowlers.
The evening also featured a kick-off celebration with Todd Gilchrist, Vice President, People, and United Way ELT Champion; Rob Yager, president and CEO of the United Way of the Alberta Capital Region; and Laurie Anderson who shared her experiences with the Boys & Girls Clubs Big Brothers Big Sisters of Edmonton & Area, a United Way partner agency.
"It was an evening of fun and friendly competition," says Lorelei Johnstone, operations manager, public health and Edmonton Zone representative for AHS' 2019 United Way Cabinet, who led planning for the event.
"I've been a proud supporter of the United Way for many years and was excited to plan this event," she adds. "The bowl-a-thon provided a great opportunity to come together as colleagues, build stronger relationships with one another and support our community."
Another fundraising event hosted by Dr. Lori Montgomery, medical leader for the AHS Calgary Pain Program and physician representative on the AHS United Way Cabinet, saw Calgary Zone physicians come together on Sept. 29 for the first-ever AHS Physicians Concert in support of the United Way of Calgary and Area. Stars included nine physicians with a passion for music, including Dr. Sid Viner, Zone Medical Director for Calgary Zone.
"The concert was an opportunity to involve physicians in the campaign in a way that's fun, engaging and out of the box. We know the funds raised will make a tremendous difference on individuals and families throughout Calgary Zone," adds Dr. Montgomery.

According to Gilchrist, who's also a United Way ELT Champion, supporting the United Way is about working together to address complex issues which directly impact Albertans.
"Many of our patients are impacted by social determinants of health, including mental illness, homelessness and poverty. We need to work together with community partners to address these complex issues," he says.
"We have many shared goals with the United Way, and look forward to working with them to support the health and well-being of Albertans."
AHS' United Way Campaign is made possible through individuals such as Johnstone and Dr. Montgomery, who also volunteer their time on the AHS United Way Cabinet to help ensure its success.
"Behind each activity and event is a group of dedicated volunteers making it possible," says Dr. Montgomery.
"Thank you to my colleagues on the volunteer cabinet, and the many others who give their time, talent and resources to the cause. Your contributions are essential to the success of this campaign."