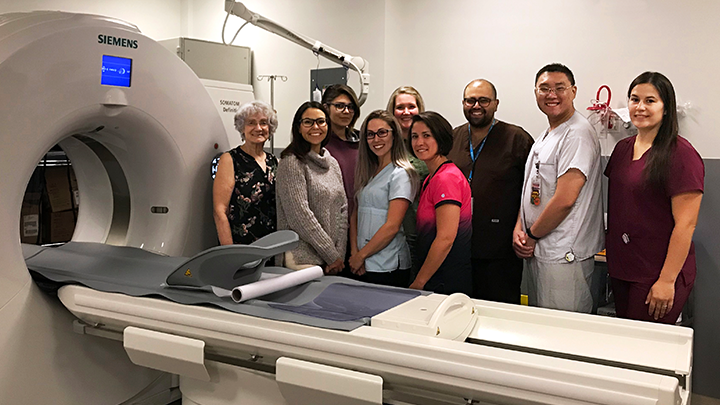 The diagnostic imaging team at the William J. Cadzow-Lac La Biche Healthcare Centre gathered to celebrate their newly-opened CT scan suite on Sept. 11. They are, from left: Paulette Seliski, Bobby Jo Gauthier, Misty Johnson, Desiree Gauthier, Cora Therrien and, in rear, Ashley Fossen, Jasser Abu-Giemi, Peter Wong and Lauren Beniuk.
Foundation-funded suite offers powerful diagnostic exams closer to home
Story & photo by Amelia Schofield
LAC LA BICHE — Residents of Lac La Biche County are celebrating the addition of a new computer tomography (CT) scan suite to the William J. Cadzow-Lac La Biche Healthcare Centre.
The Lac La Biche Regional Health Foundation raised $2.1 million to fully fund the development of a local CT scan suite through a donation from Carmen Nashim and family in memory of Frank Nashim, combined with a commitment from Lac La Biche County to match community donations.
Since the suite opened to patients in March, nearly 500 local and area residents have undergone exams. The foundation held a grand opening event to recognize project donors on Sept. 11.
Prior to its opening, local and area residents travelled to Edmonton, St. Albert, Westlock or Cold Lake to get a CT scan. This critical diagnostic tool produces cross-sectional patterned images to create 3-D views of the body.
"Having a CT scan suite available locally is a great benefit to patient care, as it enhances the doctor's ability to screen for and more accurately diagnose medical conditions," says Dr. Verna Yiu, President and CEO, Alberta Health Services (AHS).
"We're grateful to the Lac La Biche Regional Health Foundation and its donors for their support of this project. This is another great example of advancing healthcare in the community, by the community."
The suite is pivotal to healthcare delivery in Lac La Biche, says Kal Polturak, Chair of the Lac La Biche Regional Health Foundation.
"We're very happy to see this suite already serving members of our community," says Polturak. "The community has really stepped up to help make this goal a reality. It wouldn't be possible without the generous donations from the Nashim Family and Lac La Biche County."
The new suite is expected to provide more than 1,000 scans per year, serving patients from Lac La Biche and surrounding communities, including Hylo, Kikino, Plamondon and the Buffalo Lake Métis Settlement.
The support of the foundation and its donors has been vital to providing this enhanced service to the community, adds Cindy Harmata, Senior Operating Officer – Rural Health East (Areas 5-8, Program & Performance Acute, Allied and Seniors), AHS.
"Patient care is our top priority at AHS. It is at the heart of everything that we do," says Harmata. "Thank you to the foundation, the Nashim family, Lac La Biche County and donors for helping us to improve what we can offer to patients. This is what partnership looks like when we work towards a shared commitment to community care.
"This gift is deeply appreciated and it is already having a great impact on healthcare in Lac La Biche. We are so grateful."
For more information on how to support the Lac La Biche Health Foundation, please visit llbhealth.com.