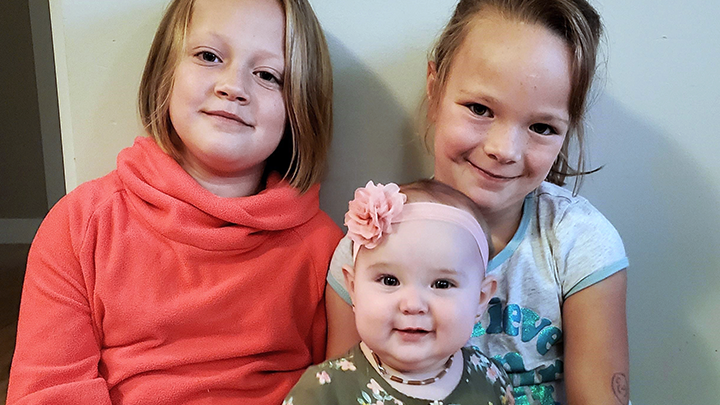 Thorine Newman exclusively breastfed all three of her daughters, from left, Delaney, 7, Heidi, seven months, and Ainslie, 6. She donates her extra breast milk to the NorthernStar Mothers Milk Bank
National Breastfeeding Week in Canada runs Oct. 1-7
Story by Amy Crofts
GRANDE PRAIRIE — Thorine Newman never expected that breastfeeding her child could also help babies across Alberta.
Since having her daughter Heidi in March, she's donated 25 litres of breast milk to the NorthernStar Mothers Milk Bank.
"I'm a strong advocate of breastfeeding. I've been very fortunate to have had wonderful breastfeeding experiences with all my girls," says Newman, a mother to Heidi, seven months; Ainslie, 6, and Delaney, 7.
"But I have friends who have struggled with low milk supply and breastfeeding pre-term babies. I want to help in any way I can."
Blessed with an oversupply of milk, Newman decided to pump and donate to the milk bank at the suggestion of her cousin, a neonatal intensive care unit nurse at the Queen Elizabeth II Hospital.
Newman, who lives in Wembley about 25 km west of the city, drops her nutritious donations off at the Grande Prairie Milk Drop — which opened in January 2016 — at the Alberta Health Services (AHS) Public Health Centre at 10320 99 St.
"When the breast milk bags start falling out of the freezer, then it's time to go in," Newman adds with a smile.
The Milk Drop serves as a site for approved donor mothers to drop off their milk. It's then sent to Calgary to be pasteurized and distributed by the NorthernStar Mothers Milk Bank to sick babies in hospitals and communities across Canada.
In Canada, this is National Breastfeeding Week, which runs Oct. 1 to 7.
To date this year, Grande Prairie and area moms have donated about 4,260 ounces of breast milk. Each year, the milk bank dispenses more than 200,000 ounces of donor human milk.
"Breast milk is the best option for any baby — and we are so pleased to have a milk drop right in our community," says Donna Matier, Director, Population and Public Health for AHS North Zone West.
"This gives women in the Grande Prairie area, who are breastfeeding, the opportunity to help sick and fragile babies, from Northern Alberta and beyond," she says.
Newman has set a personal breast-milk donation goal of 1,000 fluid ounces, which works out to about 29 litres.
"NorthernStar Mothers Milk Bank is pleased to partner with Grande Prairie through the Milk Drop at the Public Health Centre," says Jannette Festival, Executive Director, NorthernStar Mothers Milk Bank.
"The mothers who donate to NorthernStar are helping our most fragile population, premature babies, regain their health. Their milk donation truly saves lives."
Resources
For information about NorthernStar Mothers Milk Bank, or how to become a donor, please click here.
For information about Grande Prairie's Milk Drop hours, please call 780-513-7500 or visit NorthernStar's website
For information about breastfeeding and supports for new moms in Grande Prairie, please contact Community Health Services at 780-513-7500.