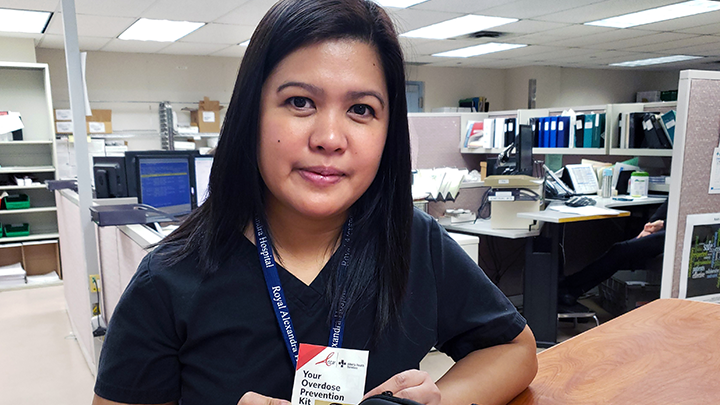 As part of her job, Bermila Andres, a pharmacy technician at the Royal Alexandra Hospital, provides demonstrations on take-home naloxone kits.
Pharmacy Technician Day celebrates their contributions to healthcare
Story & photo by Danielle O'Brien
The proclamation of the first Pharmacy Technician Day on Oct. 16, 2018, highlighted the essential and continuously evolving role of the more than 800 pharmacy technicians who work for Alberta Health Services (AHS) across the province. This year, the day will be celebrated on Oct. 15.
"The day really highlights how important our role is and how we directly impact patient care," says Laura Miskimins, Pharmacy Operations Manager at the Edmonton Remand Centre.
"We are leaders — particularly in medication distribution — at our sites across the province. In recent years, we have fully embraced ownership and accountability for ensuring that patients receive the medication that they need by managing distribution activities such as compounding, repackaging, ordering and inventory management."
Prior to 2011, pharmacy technicians were unregulated in Alberta, meaning that there was no professional college responsible for overseeing practice standards and licensing.
"The regulation was an opportunity to refocus, and in some ways, redefine our role in the healthcare," adds Miskimins. "Today, our pharmacies are filled with pharmacy technicians committed to distribution activities…. Pharmacists now spend more time with their patients while we maintain and manage the dispensary."
Pharmacy technicians also provide education to patients and their families on the use of inhalers, blood pressure machines, and more recently, take-home naloxone kits.
To learn more about Pharmacy Technician Day— or pharmacy technicians in general — please visit the web page of the Pharmacy Technician Society of Alberta.