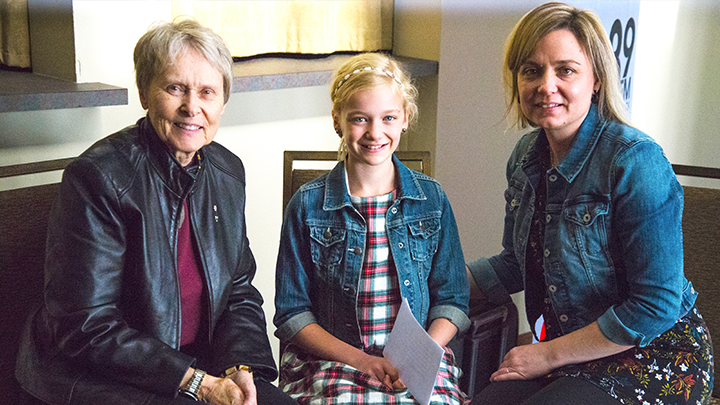 Eleven-year-old Magdalena Kehler, centre, meets her Canadian-astronaut idol, Dr. Roberta Bondar, left, while mother Chantal joins in the historic moment at a Lunch Box Experience fundraiser sponsored by Red Deer Regional Hospital Foundation.
Red Deer girl gets to meet her idol Dr. Roberta Bondar at fundraiser
Story by Melissa Ballantyne | Photo by Patrick Teskey
RED DEER — Short on words, her eyes lit with excitement, Magdalena Kehler could only say "amazing" upon finally meeting her idol, Dr. Roberta Bondar, Canada's first female astronaut.
The 11-year-old Red Deer resident recently enjoyed a private meet-and-greet thanks to the Red Deer Regional Hospital Foundation and some generous donors.
Bondar, also Canada's first neurologist in space, came to Red Deer for the foundation's Sept. 23 Lunch Box Experience to help raise money toward the purchase of ceiling-mounted patient lifts at Red Deer Regional Hospital Centre (RDRHC).
"Magdalena asked all sorts of questions — some were pretty personal," says mom Chantel Kehler, with a laugh.
When Magdalena, an aspiring pilot and astronaut herself, first heard about Bondar's involvement in the foundation event, she really wanted to attend. But with tickets costing $125, more than she could afford, the clever youth rolled the dice, so to speak, by crafting an email to her idol.
"Magdalena is fairly shy in real life, but she opens right up when writing — and that's exactly what happened with this email," says her mother.
In her email, Magdalena explained that she wasn't able to attend the event, but asked if she could treat the doctor to a coffee while she was in town, and perhaps have the opportunity to ask her more questions.
The email caught the eye of the kind-hearted Bondar, who brought it to the foundation's attention.
"As soon as Dr. Bondar told us about the email, we knew helping out this young girl was something we wanted to do," says Manon Therriault, Chief Executive Officer of the foundation. "We reached out to our board and donors and were able to have the cost of two tickets covered.
"We were absolutely thrilled to be able to offer Magdalena this chance of a lifetime."
Magdalena and her mother took part in the entire Lunchbox Experience, which included a keynote address by Bondar, comedy performances and a gourmet boxed lunch. Afterwards, the pair got to meet Bondar face to face.
Among her questions about experiences in space and what high school classes an aspiring astronaut should take in high school, Magdalena also asked about the challenges female astronauts face and how to juggle a career with personal and family life.
"Ever since she was old enough to say what she wanted to be when she grows up, she's said she wants to be an astronaut," says Kehler.
"For her to have this opportunity, and to hear answers from Dr. Bondar herself, the whole experience has just been incredible."