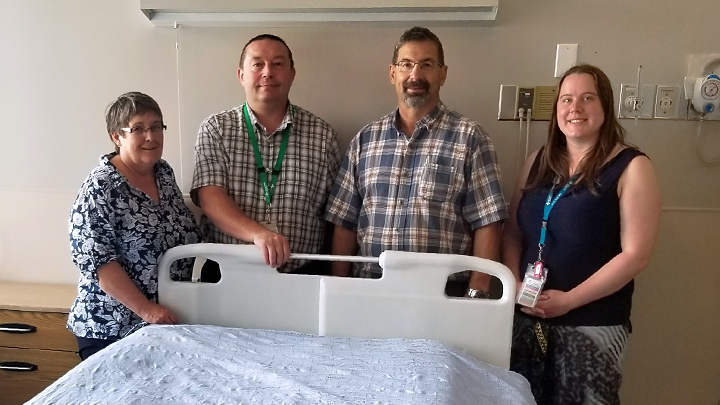 Posing with a new expandable palliative care bed are, from left: Sharon Landry and Stan Burkholder of Fairview Health Complex Foundation; James Halliday, Site Manager at Fairview; and Kayla Young of Fairview and Area Palliative Care Society.
Fairview foundation and society fund palliative care beds
Story by Sara Blake
FAIRVIEW — Patients and families can now experience greater comfort and closeness during end-of-life care thanks to the Fairview and Area Palliative Care Society and the Fairview Health Complex Foundation.
Three palliative care suites at Fairview Health Complex have undergone upgrades — and each suite is now equipped with an expandable double bed — made possible by contributions from these charitable organizations.
When the need was first identified in the community, the two groups came together with the help of Site Manager James Halliday, to make the improvements a reality, says Gwen Prusak, chair of the Palliative Care Society, who's also been a homecare nurse with Alberta Health Services (AHS) for 40 years.
"We received comments from different community members who (say they) would've loved to have gotten just a bit closer to their loved one in bed during those last days," says Prusak.
"Couples for instance, or parents of a dying child, want to be able to sleep or cuddle with that child, and the single beds were just too small."
When the society approached Halliday about the possibility of funding larger palliative care beds. He worked with AHS bed maintenance staff to procure three new beds that would be better suited for these situations.
"We were able to find a Canadian company who makes specialized hospital beds which can expand into double beds to accommodate these types of needs," says Halliday.
"We're pleased to be able to improve comfort for our patients and their families, and so grateful for the support from the foundation and the Palliative Care Society to help realize this goal."
The foundation funded two beds, while the Palliative Care Society was able to cover the cost of the third bed. In total, the two groups donated more than $50,000 to the cause.
Stan Burkholder of the Fairview Health Complex Foundation says they were eager to contribute.
"I understand these double beds are a newer concept and they haven't been available for long," he adds. "When we found out that they were an option, we were all for it."
Both groups have been active in the community for more than 25 years.
The Palliative Care Society's annual Festival of Trees event is a Christmas tradition for many, raising about $25,000 a year. The foundation receives most of its donations through informal grassroots fundraising efforts.
For information on how to give, call the foundation at 780-834-7182 or the Palliative Care Society at 780-835-4951.