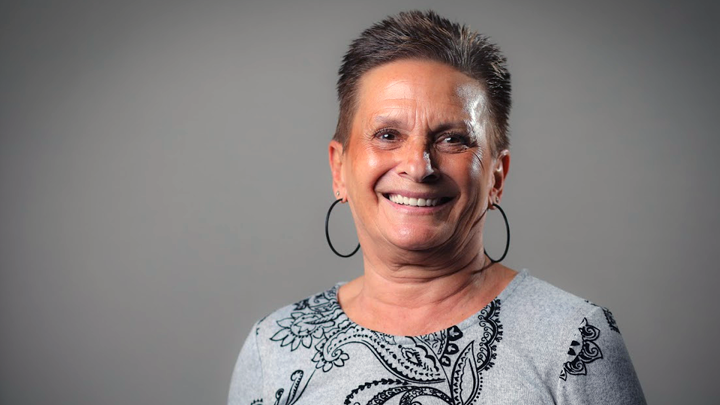 Cheryl Weaver, board chair of the Regional EMS Foundation, has volunteered with the foundation for the past two decades. With her leadership, the foundation has made many significant contributions to emergency medical services in Grande Prairie and across northwestern Alberta.
Meet Cheryl Weaver, board chair for Regional EMS Foundation
Story by Amelia Schofield | Photo by Leah Hennel
GRANDE PRAIRIE — Alberta Health Services (AHS) recognizes May as Health Philanthropy Month. Throughout the month, we'll be celebrating the foundations and auxiliaries that raise funds for healthcare across the province.
The Faces of Foundations profile series will introduce you to the individuals who lead healthcare philanthropy across Alberta. This week, we're pleased to profile Cheryl Weaver, board chair of the Regional EMS Foundation in Grande Prairie.
Why did you get involved with the Regional EMS Foundation?
One of my favourite things to do is volunteering. I sit on several boards and have been named Grande Prairie's volunteer of the year. I got involved with the foundation about 20 years ago, when I volunteered for the Wine Fair, which is our biggest fundraiser. I was then asked to be on the board and I'm now the chair. I like being on the Regional EMS Foundation's board — it's my way of giving back because they give so much.
Tell me about some of the foundation's recent accomplishments.
I'm very proud to have been part of raising money to purchase a SIM Unit (simulator for training) for Emergency Medical Services (EMS) in North Zone. We've also helped place automated external defibrillators (AEDs) in local schools, senior lodges, golf courses and several businesses in Grande Prairie.
More recently, we provided support for a mental health task force between Alberta Health Services EMS, the Regional EMS Foundation and the Talk to Me Society. Knowing there was assistance needed with a peer support program for EMS practitioners, we began looking into different support models. When COVID-19 restrictions came about, it was imperative we offer solutions that would provide practitioners with virtual access as well. We're currently in the grant application process to secure funding for a fully functioning mental health app that supports a peer support network, certified mental health training, self-assessment tools and resource-sharing tools.
We're also currently raising funds for a non-ambulance transfer (NAT) van to transfer medically stable patients between healthcare facilities in Grande Prairie and for our EMS Care Initiative which will be providing care packages to EMS practitioners during the COVID-19 pandemic. The funds raised through the EMS Care Initiative will be dispersed through local EMS stations during EMS Week from May 24 to 30. This year's theme is Pandemic: Paramedics on the Front Line. Both the Regional EMS Foundation and the Talk to Me Society will match the first $1,000 in donations.
How can Albertans support the foundation?
If you would like to drop off gift card donations for the EMS Care Initiative, individuals can do so at the customer service desk at Canadian Tire or New Horizon Co-operative gas bars in Grande Prairie. Monetary donations will be accepted at accounting@remsfoundation.org. For more information on the EMS Care Initiative or other ways to support the foundation, visit www.remsfoundation.org.