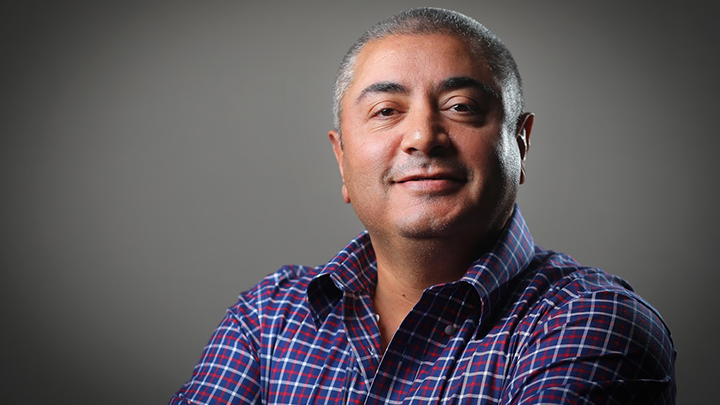 Waseem Jabre, board chair for the Drayton Valley Health Foundation, came to Canada from Lebanon in 1993. He became involved with the foundation after moving to Drayton Valley to start a restaurant business four years ago.
Meet Waseem Jabre, board chair for Drayton Valley Health Foundation
Story by Amelia Schofield | Photo by Leah Hennel
DRAYTON VALLEY — Alberta Health Services recognizes May as Health Philanthropy Month. Throughout the month, we'll be celebrating the foundations and auxiliaries who raise funds for healthcare across the province.
The Faces of the Foundations profile series will introduce you to the individuals who lead healthcare philanthropy across Alberta. This week, we're pleased to profile Waseem Jabre, board chair with the Drayton Valley Health Foundation.
Why did you get involved with the Drayton Valley Health Foundation?
I was the regional general manager for Bell Canada in Northern Alberta for 11 years, and during that time we supported causes like Kids Help Phone and the Stollery Children's Hospital Foundation's radiothon. Since then, I've been passionate about helping our medical centres provide the best possible services. I felt that getting involved with the Drayton Valley Health Foundation was a great way to give back to the community.
Why is healthcare philanthropy important to you?
As a foundation we've contributed hundreds of pieces of equipment to the Drayton Valley Hospital and Care Centre and the Breton Continuing Care Centre over the years. This is important to me because we get to help so many people throughout the surrounding area.
We also have a great community that is willing to work as one family, all together, in supporting the foundation. They have a passion when it comes to the medical field and the foundation has done a great job at directing those fundraising efforts to worthy causes.
Tell me about some of the foundation's recent accomplishments.
One of our recent accomplishments was raising funds to bring a CT scanner to the Drayton Valley Hospital and Care Centre. We worked on that campaign for years and we received a lot of support from individuals and businesses in the community. The CT scanner has been up and running for the past few years, and it's helping many people. That was a big highlight for us.
We also funded new heart monitoring equipment recently, which will help our healthcare providers to help people in our community more quickly. Rather than sending them to different facilities, we can help them right here in Drayton Valley.
We're now fundraising to renovate an existing palliative care suite and to add another suite to our local hospital.
How can Albertans support the foundation?
We realize that people are experiencing many challenges right now, but we also want them to understand that it is important to support healthcare. The well-being of our community is a priority, and if we want to build a strong future, we need a great medical system and facilities to support our people.
While fundraising will continue to be a priority, our foundation also looks for volunteer support. We have many events happening, like our Medieval Feast and Tournament, which had about 700 people attend last year. We unfortunately cancelled the event this year due to COVID-19, but appreciate those who made last year's event possible and look forward to working with our volunteers on another successful event in 2021.
To learn more about the Drayton Valley Health Foundation, please visit dvhealthfound.ca.