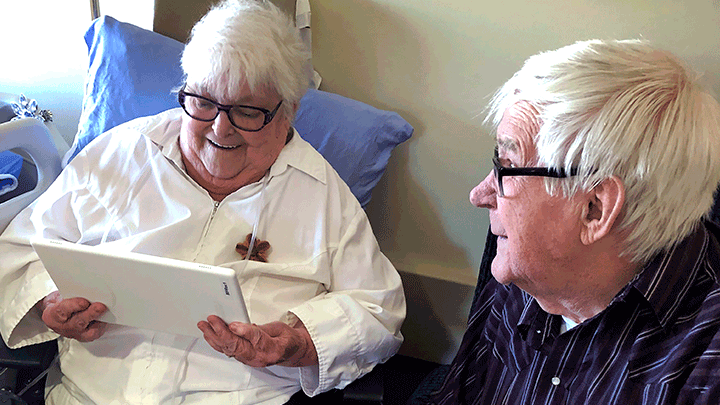 Berniece and Cliff Sydbo chat with a Seven Generations staff volunteer. The Seniors Chat program partners Seven Generations staff volunteers with continuing care residents for virtual visits each week to brighten their day.
Photo courtesy AHS Recreation Therapy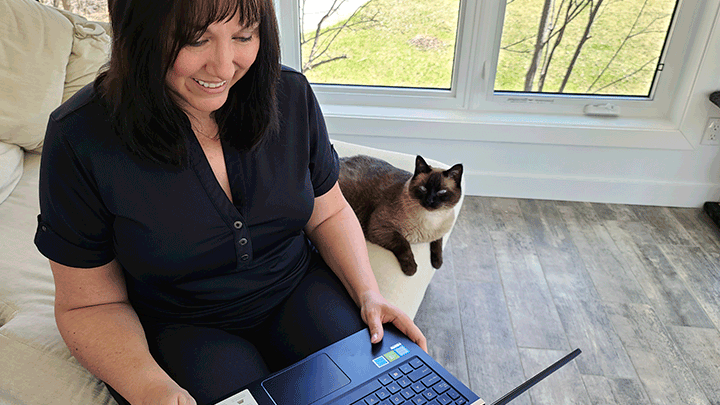 Cindy Park, director of Community Engagement with Seven Generations, meets from home with a Mackenzie Place resident.
Photo courtesy of Seven Generations Energy
Seven Generations volunteers connect online with continuing care residents to beat the isolation
Story by Sara Blake
GRANDE PRAIRIE — Doreen Wilson has lived at the Mackenzie Place Continuing Care Centre for about a year. Like many who live in continuing care settings, Doreen hasn't had face-to-face company since the pandemic began.
"It's been a little lonesome," says Doreen. "I have a daughter. She has little ones and her husband is ill, so it's hard for her to come here to visit."
Visitor restrictions at continuing care facilities, while necessary to protect residents from the spread of COVID-19, have made it challenging for some seniors to stay socially connected. And so the 7G Seniors Chat program began.
A partnership between Alberta Health Services (AHS), Seven Generations Energy (7G) and the Grande Prairie Regional Hospital Foundation, the program connects continuing care residents with Seven Generations employee volunteers for regular video chats.
"We know that loneliness can have a negative impact on both mental and physical wellbeing," says Stacy Greening, AHS Senior Operating Officer for Grande Prairie. "So when Seven Generations reached out with the idea for the Seniors Chat program, it was clear that this was something we wanted to support."
Cindy Park, Director of Community Engagement for Seven Generations, says the company's staff are active volunteers who were looking for ways to continue to contribute, despite the pandemic.
"Social isolation can lead to health issues for seniors, particularly during these challenging times," she says. "Through the 7G Seniors Chat program, our volunteers connect with a senior on a tablet to have a conversation, brighten their day and let them know they are not alone."
AHS' Recreation Therapy department staff help participants connect with a volunteer on a tablet.
"The residents enjoy the company and are able to maintain socialization, even with the physical distancing measures," says Del Theroux, a recreation therapy assistant. "Feedback has also been very positive from the volunteers who get to virtually meet and learn from the residents."
Several tablets for the program were donated by Seven Generations through the foundation to help ensure participating seniors participating could connect.
"We've worked with Seven Generations on several projects and it is always a pleasure to be able to help them achieve their vision," says Dawn Miller of the Grande Prairie Regional Hospital Foundation.
Seniors Chat benefits continuing care residents as it tackles social isolation, fosters new connections and forging friendships.
One resident, Doreen, says she looks forward to the interaction each week with Kim Olness, who works in the accounting department for Seven Generations.
"Del invited me to take part in the program and pretty soon I met Kim," adds Doreen. "She's very nice and bubbly. We talk about her cat, reading and I've shown her some of my art work I've done in my room here. We chat about every little thing you can think of."
Olness adds she enjoys her video chats with Doreen — and that the program has brought her benefits she hadn't anticipated.
"Doreen wants to hear about things going on in my life just as much as I want to get to know her. It's really made me step outside of my bubble," she says.
"Especially during this time, it's easy to get isolated and worry only about what's going on in your day-to-day life and forget about other people. She was a complete stranger to me before COVID and now she means a lot to me, which was something I didn't really expect. As much as I joined this to be a volunteer, she's helped me as well."
There are currently 14 Seven Generations volunteers matched with residents at Mackenzie Place for regular chats. Plans are also underway to continue the program once the pandemic has passed, possibly expanding it to other communities and facilities throughout the province.