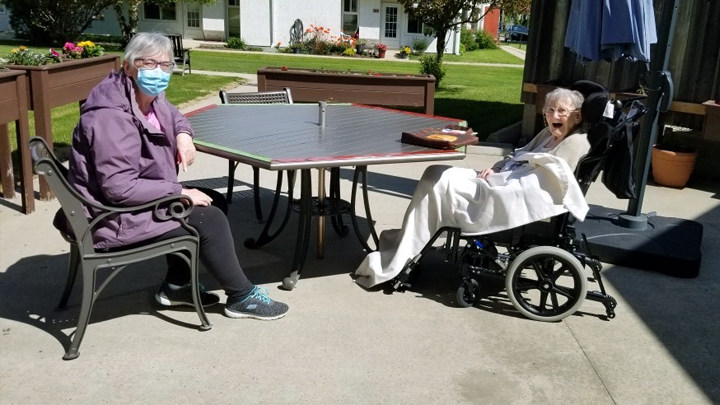 Despite the physical distancing, Pam Carritt and her mother Mary Jackson have never been closer thanks to the caregivers at Bethany Sylvan Lake. Photo Credit: Supplied
Caregivers help mom and daughter master technology to keep in touch
Story by Yolanda Genu
For Pam Carritt, the COVID-19 pandemic has meant finding new ways and using technology to stay in touch with her mother Mary Jackson, who resides in continuing care at Bethany Sylvan Lake.
Before the pandemic, she used to visit her mom three times a week. When that became no longer possible, Bethany care staff helped arrange video calls between Carritt and her mother so they could see each other as they chat.
"Using Skype is new for mom and me," says Carritt. "Though she doesn't talk much, I can always tell when she's happy because she's smiling. We chatted and I could see her — and I was reassured that she's doing well."
Jackson admits she found herself a bit confused at the outset of her first Skype call because she couldn't see her daughter properly, but since then — with the help of staff — the pair have stayed connected to catch up on family news. Carritt has also been able to virtually attend family meetings.
Jackson, who was diagnosed with dementia two years ago, lives with limited hearing and relies on a wheelchair to get around. But she's healthy and has a good appetite, says Carritt. She gives staff credit for the fact her mother still has her sense of humour, despite the pandemic.
"The healthcare workers are doing a fantastic job, and they're so caring," says Carritt. "They don't get enough recognition for all they've been doing to keep our seniors well and comfortable."
"Mom is happy and she's being looked after. That's the best I can hope for."
Carritt's other hope is to celebrate her mom's birthday in person as soon as she's able.
"Mom turned 93 this year, so we'll have our face-to-face celebration after the restrictions are lifted. Then I can go and hold her hand for a while. My hands are usually cold, and she warms them."