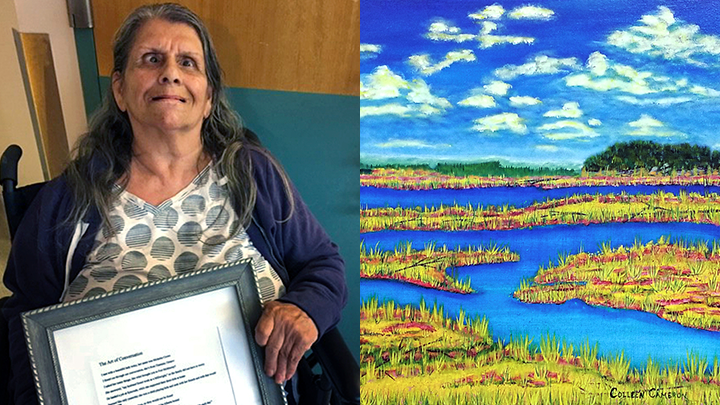 Micheline Crowe, who resides at the Northern Lights Regional Health Centre, poses with her poem (left) that was created by artist Ryan McCann through The Art of Conversation.
George Vermillion, a resident at the Northern Lights Regional Health Centre, has participated in The Art of Conversation. He received this painting (right) of the Fort Chipewyan Delta on Lake Athabasca from artist Colleen Cameron.
Photos supplied
Fort Mac seniors connect with local artists to inspire creations
Story by Logan Clow
Art and conversation are connecting artists and elders as well as continuing care residents at the Northern Lights Regional Health Centre (NLRHC).
These meaningful connections are being made possible through The Art of Conversation, a collaborative project between Arts Council Wood Buffalo (ACWB) and St. Aidan's Society.
"Local artists are paired one-on-one with a senior in the community, and they have a series of conversations by phone or on Skype, Zoom or Facetime," says Liana Wheeldon, executive director, ACWB. "From those conversations, the artist will create a piece of artwork, inspired by the conversation, and then gift the artwork back to the senior.
"Seniors are also more than welcome — and encouraged — to create their own artwork. If they're interested, we deliver them artwork kits with different pencils, watercolour paints and paper, and a variety of supplies."
The Art of Conversation launched in March 2020. Wheeldon notes conversations and art creation were originally supposed to take place face to face in a group workshop, but went virtual for safety.
"Fort McMurray is home to a really diverse arts community. Through the program, we've seen participation from artists of all ages. A wide range of art forms have been gifted to seniors so far," adds Wheeldon.
Participating artists are paid a fee by ACWB for each piece of art to cover preparation time, conversations, creation of the artwork, materials and supplies. The final artwork is shared with both the senior and ACWB.
To date, artists and seniors have participated in more than 30 pairings in the program, including 10 seniors at the NLRHC.
"These conversations have been so meaningful and impactful to our residents here," says Natalie Foy, a recreation therapist at the NLRHC. "It's so heartwarming to see the smiles on our residents' faces when they receive their artwork. It's really had a positive impact.
"A lot of our seniors enjoy reminiscing and sharing fascinating and meaningful stories about themselves. The Art of Conversation means a lot to them, to be able to participate in the program and share those things that matter to them, with somebody who takes interest in it."
When an artist becomes available, Foy says the ACWB reaches out to staff at the Therapeutic Recreation Department to pair them with a senior.
The conversation between the artist and senior varies in length depending on what information the artist needs to complete their artwork.
Micheline Crowe, a resident at the NLRHC, took part in the program. She connected with Ryan McCann, a local artist, who created a poem for her.
"We had some really interesting and engaging conversations, and we learned a lot about each other," says Crowe, noting she's always enjoyed poetry.
"I was really impressed when I received the poem. It's simple, understandable and beautiful. The poem reflects where I was raised and how I came to Fort McMurray. All of these years later, that still matters to me. Ryan really understood me — and he captured that in our poem."
The poem reflects on why Crowe moved from Timmins, Ontario to Fort McMurray, her work as a former ski volunteer and her passion for planting flowers.
A portion of the poem, now framed and on display in Crowe's room, reads: "I asked her about advice in life, and this is what she had to say,
"Be in a good mood when you can, take care of your family and try and enjoy life each day."
George Vermillion is another NLRHC resident who's participated in The Art of Conversation. He received a painting of the Fort Chipewyan Delta on Lake Athabasca by artist Colleen Cameron.
"The art represents the life that surrounded me as a kid. It's surreal to look at it. It certainly brings back a lot of memories," says Vermillion, who grew up in Fort Chipewyan.
Building on the positive feedback and an overwhelming response from artists and seniors, Wheeldon hopes The Art of Conversation will continue in 2021.
See more information about Arts Council Wood Buffalo and St. Aidan's Society.