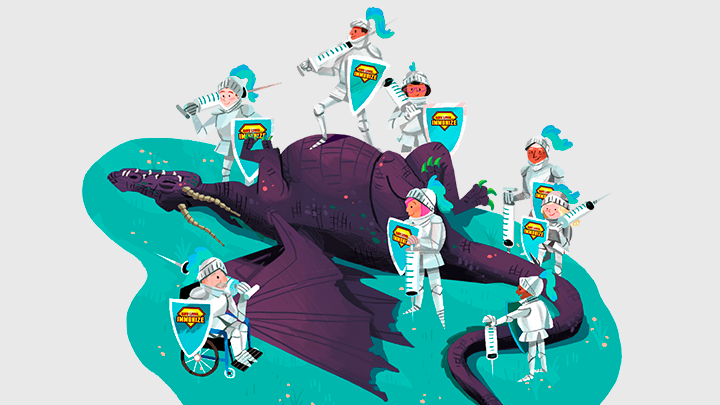 Working together to defeat influenza, a community of knights wield syringes like swords — using their powerful influenza vaccine to vanquish the flu dragon.
How does the flu virus spread?
Person-to-person by droplets generated when an infected person sneezes, coughs or even talks
Indirect transmission occurs when touching surfaces contaminated with the influenza virus, then touching the eyes, nose or mouth
Review Influenza vs. COVID-19, or the Influenza Summary FAQ for more flu facts!
What are influenza symptoms?
Sudden onset of high fever, cough and muscle aches
Headache, chills, loss of appetite, fatigue, and sore throat
Nausea, vomiting and diarrhea may be seen in children, but these symptoms are uncommon in adults
How to protect yourself and others?
Stay home when sick
Complete your fit for work screening before entering an AHS facility
Maintain physical distancing
Perform hand hygiene by cleaning your hands thoroughly and often
Cover your mouth and nose with a tissue when sneezing; or, sneeze into your arm, not your hands
Avoid touching your eyes, nose, or mouth
Get your shot at a staff influenza immunization clinic
Story by Danielle Griffith | Illustration by Kim Smith
Am I experiencing symptoms of the flu? A cold? COVID-19?
The COVID-19 virus has travelled the globe, impacting lives, dominating our thoughts and the social media for more than half a year. Now, with the return of flu season, questions about illness, symptoms, actions you should take if you're sick — and how to protect yourself and loved ones from both viruses — are circulating.
Although it may be difficult to determine which virus has made you sick, a key difference between the two lies in the fact that we can protect ourselves from the flu. Getting immunized annually against the virus – and getting the shot early before flu season starts – can help protect you from getting sick, reduce the spread of the virus and the severity of your symptoms, should you become ill.
"Healthcare workers touch the lives of many Albertans," says Dr. Stephen Tsekrekos, Medical Director with Workplace Health and Safety (WHS).
"This year, as we battle two potentially deadly viruses, we need to take action to protect the health and well-being of our staff from getting the flu and extend that protection to our most vulnerable during a time when they need it most."
As a contagious respiratory infection that's brought on by the influenza virus, the flu can create health issues for anyone, even for those who are healthy. However, for individuals such as pregnant women, seniors, children and the immunocompromised or people living with underlying chronic medical conditions, it poses a significant risk for additional health complications.
Because the virus is highly contagious, its ability to spread through unprotected or vulnerable populations is considerable. Getting immunized can help break the chain. Herd immunity, a term applied when many people are vaccinated against the virus, means there's less opportunity for the disease to spread within the community.
For staff, access to the vaccine is easy and relatively pain-free. The WHS staff influenza immunization campaign, which launches Oct. 14, provides the flu shot directly to frontline healthcare workers through peer-to-peer immunizations offered by site champions, occupational health nurses and staff flu clinics. All staff and every Albertan are encouraged to get the flu shot and, as of Oct. 19, they can also attend their local pharmacy, some doctors' offices or a public health clinic to be immunized for free.
"WHS clinics may look different this year because of additional safety precautions put in place to prevent the transmission of COVID-19, however the need to immunize staff against the flu remains a high priority for AHS," says Tsekrekos. "We want staff to come to work healthy and leave the same way. Getting the flu shot will help support that goal and ensure we have a safe workplace for all."
"Choosing to get immunized is ultimately an act of compassion, kindness and care," says Nicole Clarke, Occupational Health Senior Advisor, Workplace Health and Safety. "We all have different reasons to get immunized. I do it because I care about the health of my patients, family and my community and don't want anyone to get sick because of me."
"Getting my annual flu shot is a responsibility I take seriously. Like the training I attend every year to learn about new processes or changes to existing ones, the flu shot also enables me to come to work prepared and ready to provide the exceptional patient care Albertans deserve."
Dr. Tsekrekos adds: "The best way to defend yourself against the flu is by getting vaccinated. Get the shot. Get it early. Encourage your colleagues, family and community to do the same."
See Insite for more information about the flu campaign, including options to get immunized, what to expect when you attend a WHS flu clinic, and more.