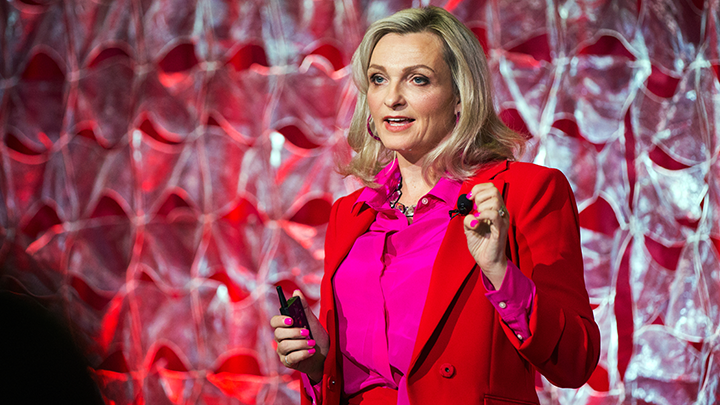 Newly recognized as one of Canada's Top 100 most powerful women, Dr. Valerie Taylor is shown here speaking at the University of Calgary Cumming School of Medicine Dean's Talk event in 2019. Photo courtesy of University of Calgary.
Valerie Taylor named one of Canada's most powerful women by Women's Executive Network
Story by Shelley Rattray
"Surreal" is how Dr. Valerie Taylor, head of psychiatry for Alberta Health Services in Calgary Zone, describes her national honour.
Newly recognized as one of The 2020 Canada's Most Powerful Women: Top 100 Award Winners — bestowed by the Women's Executive Network (WXN) and presenting partner KPMG in Canada — she's a scientist at the forefront of mental health research.
"Alberta Health Services is fortunate to be benefiting from Dr. Taylor's leadership in health services and research in Alberta and in Canada," says Dr. Verna Yiu, President and CEO of Alberta Health Services (AHS). "The work she and her team are doing is having a significant impact on Albertans and I am so inspired by her accomplishments. Well done, Dr. Taylor."
Dr. Taylor, lead for the AHS Calgary Zone psychiatry department and head of the psychiatry department at the University of Calgary, researches new treatments for those suffering from mental illness.
A wife and mother of two who hails from Newfoundland, she made her way to Toronto before landing in Calgary to lead research into the potential benefits of gut microbiota on mood disorders.
When asked how she manages two significant positions in leadership and research while raising a young family, she credits the mentorship she's had over the years — including the support she received from her late mentor Glenda McQueen as well as many AHS leaders.
"Science was the easy part," says Dr. Taylor "It's the leadership skills I've learned that have made such a difference. I've been very fortunate."
The Top 100 Awards span the private, public and not-for-profit sectors, with the winners selected by WXN's Diversity Council of Canada. Dr. Taylor is one of 106 outstanding women across Canada who advocate for workforce diversity and inspire tomorrow's leaders.
"In a difficult year, we've been inspired by Canada's highest achieving women who unite those around them and help us all rise above our challenges," says Sherri Stevens, owner and CEO of WXN.
"These powerful women continue to lead the way, which is why it's important to celebrate their achievements."