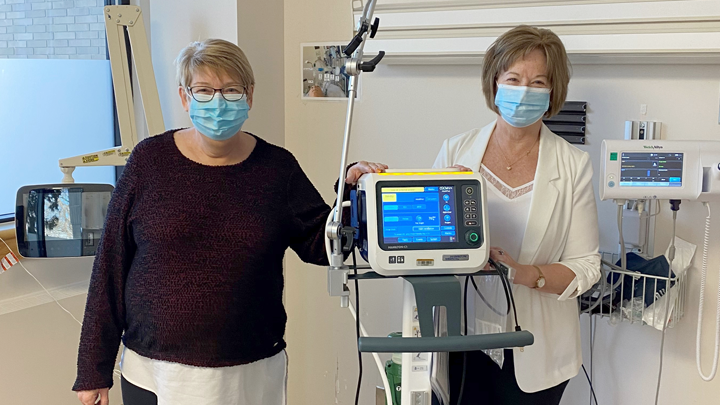 Valerie Messmer, president of Barrhead Healthcare Centre Auxiliary, and Linda Wolfram, site manager, pose with some of the equipment the auxiliary has helped buy, including a ventilator and bedside vital-sign monitor. Photo supplied.
New simplified process means funds can benefit community sooner
Story by Lisa Laferriere
Accepting monetary donations just got easier for the Barrhead Healthcare Centre, thanks to the local auxiliary.
Contributions to the healthcare centre can now be made payable to the Barrhead Healthcare Centre Auxiliary, making the process of allocating donated funds to local programs and services faster and easier.
Established in 1929, the Barrhead Healthcare Centre Auxiliary is a group of dedicated, community-minded individuals who volunteer and raise funds for the centre.
"The Auxiliary has been our longtime partner in supporting local healthcare," says Linda Wolfram, Alberta Health Services (AHS) site manager at Barrhead Healthcare Centre. "The work they do is outstanding, and their support with this initiative will help us access donated dollars quicker and easier than before."
Previously, financial donations were often made out to AHS or the Barrhead Hospital, as well as the auxiliary. In effort to streamline the donation process, the auxiliary now plays a larger role in managing these funds.
This process is not unusual in larger centres, where AHS often works with registered foundation partners — such as the Grande Prairie Regional Hospital Foundation or the University Hospital Foundation in Edmonton — to accept donated funds on behalf of the hospital.
Similarly, AHS often works with auxiliaries in smaller communities to provide this support to local hospital sites. Once a foundation or auxiliary receives a donation, they will work directly with site leadership to ensure the funds are used where they'll have the greatest impact on patient care.
Having the Auxiliary take on this added responsibility accelerates the time it takes for local healthcare programs and services to directly benefit from these donations.
"Right now, when a donation is made directly to the Barrhead Healthcare Centre, it goes through the provincial AHS accounts receivable department," says Wolfram. "This is to help track and protect those dollars, on behalf of the hospital –— but, there are times when we may experience a delay in getting those funds, due to something as simple as postage.
By contributing directly to the auxiliary, donors also have the reassurance that their gifts will remain in Barrhead, from start to finish, and that a dedicated group of community members will use those funds in the best possible way."
"Everything we receive goes directly to healthcare in Barrhead," says Valerie Messmer, president of the Barrhead Healthcare Centre Auxiliary.
"Foundations, auxiliaries and individual donors — whether it be a donation of time or money, or gifts in kind — they're all extremely valuable and appreciated," adds Wolfram.
Currently, the auxiliary comprises 12 community members, and they're always looking for new volunteers. Some of the important work they lead in the community includes the annual Tree of Hope at the Barrhead Healthcare Centre. The auxiliary has also helped purchase important equipment such as ventilators, bedside vital-sign monitors and specialized palliative care beds.
Going forward, it's asked that any donations be made directly to the Barrhead Healthcare Centre Auxiliary.
For more information on the auxiliary, please contact Valerie Messmer at 780-284-0570 or kebome@gmail.com.