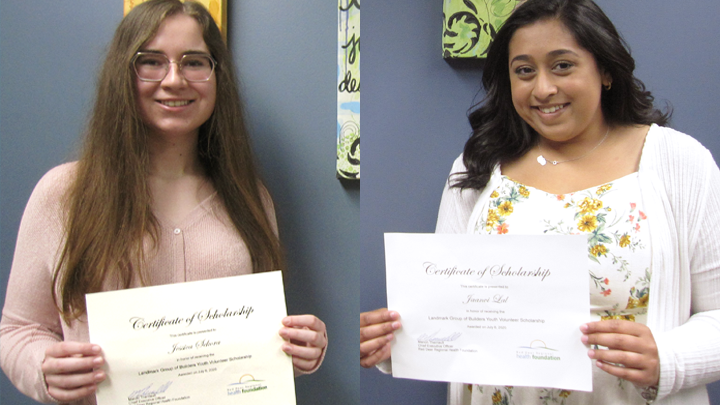 Jessica Sekora, left, and Jaanvi Lal, who both gave hundreds of hours of their time to care for patients at Red Deer Regional Hospital Centre, are now in university with support from the Landmark Group of Builders Youth Volunteer Scholarship.
Young Red Deer volunteers recognized for outstanding community work
Story by Yolanda Genu | Photos by Darci Shave
Two volunteers with Red Deer Regional Hospital Centre (RDRHC) are now pursuing their education in healthcare-related fields, just as Helen Erickson and Dorothy Bishop intended when they founded the Landmark Group of Builders Youth Volunteer Scholarship.
The most recent winners, Jaanvi Lal and Jessica Sekora, both from Red Deer, received the 2020 scholarship, an annual award which recognizes youth volunteers pursuing post-secondary studies in healthcare.
"I wanted to be a pediatrician since I was in Grade 2 because my little sister spent a lot of time at the hospital," says Lal, 18, who's currently in her first year of the Bachelor of Science program at the University of Calgary. "I feel when you help, you make an impact on people's lives."
An active volunteer at RDRHC since 2015, so far Lal has contributed 420 hours of service delivering floral arrangements, organizing wheelchairs, assisting in the pediatric and hemodialysis units, and visiting patients in acute care.
"Lal demonstrates utmost maturity, professionalism and empathy when assisting patients residing in acute care units during mealtimes and social activities," says Darci Shave, the hospital's volunteer co-ordinator. "She understands that they often required more care and attention due to age, extreme decline in health, and the unknowns of transitioning to continuing care."
Sekora is in her second year of studies in the Bachelor of Science program at Montreal's McGill University, while also focusing on mathematics and learning French. She's considering a career in cancer research and hopes to one day do a postgraduate degree.
Described as a respectful young leader who attends to patient needs with care, Sekora started volunteering in 2014 at the age of 13. During her time in Red Deer, she freely gave 367 hours to visit patients in acute care, assist in the pediatric unit, and accompany hemodialysis patients to the Action Bus each week.
"My favourite was renal dialysis; the patients were so nice and noticed our impact," says Sekora. "Because the treatment lasts four hours, we saw the same patients every week, and they knew us by name. They were so appreciative of our presence."
Shave adds: "The presence of Lal and Sekora eased our patients' anxiety about being in the hospital. They provided a pleasant and positive experience for them and their families."
Sekora gives her mother credit for inspiration. "My mom told me stories about volunteering in her younger days and she encouraged me to volunteer. (She believes) volunteering guides young people, teaches them responsibility and helps them interact with others very well.
"Through volunteering, I've learned that I care about other people — and that I want to continue to help my community. You don't need money to do something for someone else."
The Red Deer Regional Health Foundation (RDRHF) and Alberta Health Services are proud to offer leaning opportunities for local residents who wish to further their education in healthcare professions. Applications for the 2021 Landmark Group of Builders Youth Volunteer Scholarship and other RDRHF-sponsored scholarships are open until March 1, 2021. Visit their website for more information.