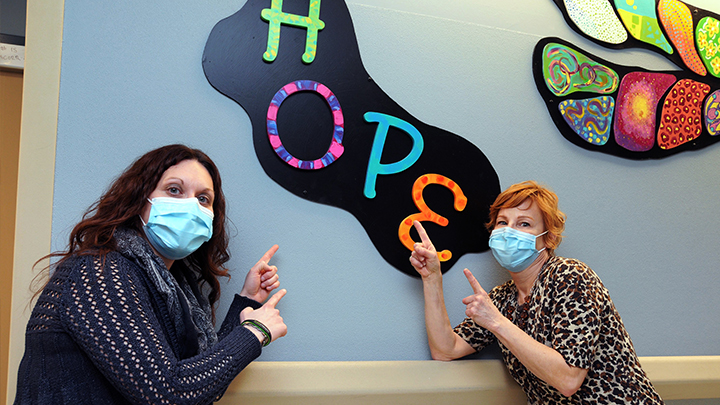 The Health Quality Council of Alberta has awarded a Patient Experience Award for Hope Hallway on the adolescent mental health units at Foothills Medical Centre. Patients, family, staff and community artists transformed the traditional, institutionalized feel of the hospital to one that is teen-friendly, hopeful, comforting and engaging. Here, committee member Jillian Paulsen, left, and volunteer artist Tracy Franks pose in the hallway.
Health Quality Council of Alberta recognizes 'responsiveness and empowerment' in four areas
Story by Gregory Kennedy | Photo by Paul Rotzinger
Alberta Health Services has been recognized with four provincial Patient Experience Awards by the Health Quality Council of Alberta (HQCA) for making positive changes in adolescent mental healthcare, reducing financial strain on patients, improving caregiver support for medically complex children, and providing compassionate end-of-life care.
"Improving patients' and their loved ones' healthcare experiences and delivering truly person-centred care requires deliberate effort. It doesn't just happen. For me, common themes among this year's recipients are responsiveness and empowerment," says Dr. Greg Powell, chair of the HQCA Patient and Family Advisory Committee.
In a year of extraordinary healthcare demands, and in the midst of the COVID-19 pandemic, "each of these teams listened to the needs and preferences of those they serve, responded and took action to make improvements, and empowered their patients and families to guide their own care," Powell adds.
The Patient Experience Awards were established by the HQCA and its Patient and Family Advisory committee to recognize and spread knowledge about initiatives that improve the patient's overall experience in accessing and receiving healthcare services.
"I'm incredibly proud of the work these teams do to improve the healthcare experience of Albertans," says Dr. Verna Yiu, AHS President and CEO. "To be recognized by the Health Quality Council of Alberta is a true honour and a testament to their commitment to ensuring our patients and their families are involved in their care."
The four AHS initiatives singled out for their excellence this year include:
Two adolescent mental health units at the Foothills Medical Centre collaborated with patients, family, staff and community artists to design and create the Hope Hallway — and transformed the traditional, institutionalized feel of the hospital to one that is teen-friendly, hopeful, comforting and engaging.
"The Hope Hallway project is a testament to what can happen when you build and strengthen a community," according to the Hope Hallway Committee. "By engaging with our patients, families, staff and community members, we were able to transform our space into a place full of hope and meaning. At times, it felt like an overwhelming vision but in the end, we were able to succeed because of grit, grace, and the support from our many partners. We are honoured to be recipients of this year's 2021 HQCA award."
Committee members include: Aleta Ambrose, Jillian Paulsen, Carol Coventry, Monica Cookson, Julie O'Brien, Elaine Raivio, Noorani Khalfan and Tracy Franks.
The Life Medical Clinic and McLeod River Primary Care Network worked together to reduce the impact of financial strain on their patients. They developed a screening tool that creates a safe space to have a conversation with a patient about the impact of finances on their health. The clinic worked closely with the AHS Health Promotions team to map out the local agencies who could provide appropriate supports for each patient.
"The McLeod River Primary Care Network (MRPCN) is incredibly honoured to have been recognized by the HQCA," says Samantha Semograd, executive director. "Our PCN Team, along with the Life Medical Clinic in Whitecourt, have done a tremendous amount of work with the Reducing the Impacts of Financial Strain (RIFS) project.
"We know that individuals living with financial strain have worse health outcomes, and by implementing the RIFS screening tool, the teams are able to get a full picture of the patient which allows our healthcare teams to not only respond and connect the patient to valuable community services, but to help improve the overall patient experience. Dr. Joseph Ojedokun, his team and the MRPCN have truly been able to improve patient care with their passion for whole-person health and understanding. (See videos of Tara's and Lacey's stories.)
The Stollery Children's Hospital Patient and Family Centred Care (PFCC) team facilitated conversations with families of medically complex children to understand how they were uniquely impacted by the COVID-19 restrictions and quarantine and created a series of virtual caregiver support sessions. This initiative created a virtual community to help families cope and navigate challenges with supportive peers and providers through the pandemic.
"Being able to nominate the PFCC team for a patient experience award, and have them selected, is both validating and humbling," says Alison Martens, mom of a medically complex child, and an AHS Patient and Family Centred Care family network member.
"This team and their efforts have positively impacted the lives of families all over northern and central Alberta. My lived experience matters, and is worth celebrating. Thank you very much for the honour of being able to do so publicly!"
The Medical Assistance In Dying (MAID) program at AgeCare provides residents with compassionate end-of-life care in a peaceful and supportive space, surrounded by the people most important to them. The COVID-19 pandemic created new challenges for residents across Alberta seeking MAID.
AgeCare acted quickly and worked with the MAID navigation team at Alberta Health Services to continue to accept transfers for MAID by providing a dedicated space for transfers during the pandemic, ensuring the safety and comfort of all involved.
"Each of these initiatives shared deeply personal stories that demonstrate the power and strength care teams can harness when all of the members are open with each other, and centred around the experiences of patients and families," says Brent Windwick, chair of the HQCA Board of Directors.
"When we meet each other where we are at and greet one another without judgment, with cultural humility, and with a sincere desire to improve, the results are incredibly inspiring. We hope these teams will inspire others to think about what they can do to improve their patients' and families' experiences."
Award recipients will be profiled in-depth via video in the future.
The Health Quality Council of Alberta is a provincial agency that pursues opportunities to improve patient safety, person-centred care, and health service quality for Albertans.