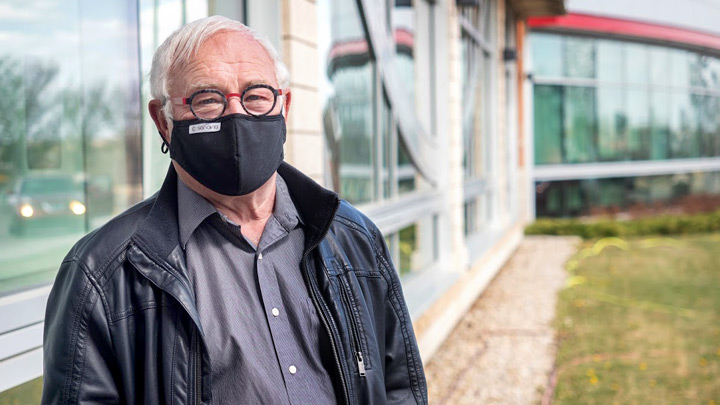 Ken Lesniak, board chair for the Strathcona Community Hospital Foundation, began volunteering with the foundation four years ago. Lesniak has a long history of community service, which includes serving on the Strathcona County Council and on the boards of several organizations.
Meet Ken Lesniak, Board Chair, Strathcona Community Hospital Foundation
Story by Amelia Schofield | Photo by Evan Isbister
Alberta Health Services recognizes May as Health Philanthropy Month. Throughout the month, we will be celebrating our philanthropic partners who raise funds for healthcare across the province.
The Faces of the Foundations profile series will introduce you to individuals who lead healthcare philanthropy across Alberta. This week, we are pleased to profile Ken Lesniak, board chair, Strathcona Community Hospital Foundation.
Why did you get involved with the Strathcona Community Hospital Foundation?
I have been involved in many community boards and organizations in the past, and when there was word that a hospital would be built in Sherwood Park, I was very excited to get involved by showing my support and promoting it. When an opportunity came up to join the foundation board, I jumped at the chance.
Why is healthcare philanthropy important to you?
Healthcare philanthropy is important to me because healthcare is essential to every person, and I think people realize that now more than ever with the COVID-19 pandemic. It's very rewarding to be able to support our hospital and help advance healthcare services in our community.
Through our work as a foundation, we do our best to engage the community so they feel the same way and want to show their support toward the hospital. I think we have accomplished a great deal over the years by taking that approach.
What are some of the foundation's accomplishments that you're most proud of?
Since the foundation was formed 10 years ago, we have contributed $300,000 toward healthcare needs in our community. During the time, we have provided funding for specialized equipment such as an ultrasound machine, colposcopy equipment and beds. We have also funded training for staff, as well as supporting staff appreciation. Showing our appreciation for the staff is a major goal of our foundation, especially in the current situation, and this is an ongoing activity.
What initiatives are coming up at the foundation?
One of our upcoming fundraisers is our annual golf tournament, which is taking place on Sept. 10. Each year, our tournament raises about $20,000 for the hospital and is a very successful event with many regular attendees. This past year, we also had a successful mail campaign that was sent to more than 15,000 people in our community. The campaign generated a lot of awareness about the foundation and the work that we are doing. There were also many community members that received the mail-out and chose to make a donation to our organization, which was much appreciated.
How can Albertans support the foundation?
Albertans can support the foundation through donating their resources — whether that's by making a financial donation if they are able to, volunteering on our foundation board, or volunteering their support toward one of our fundraising activities or providing their ideas. We are always open to new ideas to generate awareness of the work we are doing and to raise funds, so we always appreciate that as well.
For more information on the Strathcona Community Hospital Foundation, visit their website.