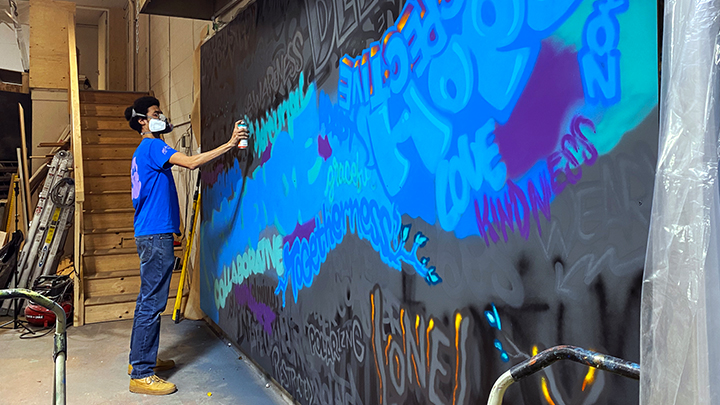 Edmonton artist AJA Louden at work, creating a powerful mural celebrating our healthcare heroes. It will be on display at the McMullen Gallery in the University of Alberta Hospital through August. Photo Supplied.
McMullen Gallery artwork funded by Friends of University Hospitals
Story by Christine Harris
A compelling new mural is on display at the University of Alberta Hospital's McMullen Gallery. Created by local muralist AJA Louden, the installation draws on responses submitted by healthcare workers to describe their experiences over the past year of the COVID-19 pandemic.
"We look at art as a way of revealing experiences and stories," says Tyler Sherard, executive director of the Friends of University Hospitals Foundation, which commissioned the artwork.
"There is incredible value in sharing the stories of healthcare workers, especially in response to this event, and we wanted to give them the opportunity to do so."
More than 150 Edmonton-area healthcare workers responded to a Friends of University Hospitals survey, which asked them to submit one word — positive or negative — that sums up the past year.
In reviewing the responses, Louden says he was struck by the power of what he read.
"It was not just the number of staff who took part in the survey, but the quality of their input that was impactful," Louden adds. "People's willingness to really dig deep, sit with some of these feelings and share their deeply honest impressions. It was humbling to be on the other end of."
Their submissions reflect a wide range of feelings and experiences — from isolation and exhaustion to a celebration of teamwork and the idea of coming together.
The mural is intended to honour staff and the many sacrifices they've made in their response to the pandemic, says Cathy Osborne, senior operating officer for the University of Alberta Hospital (UAH), Mazankowski Alberta Heart Institute and Kaye Edmonton Clinic.
"Everyone across AHS has felt the impact of COVID-19, whether working on the frontlines or behind the scenes," she says. "It's now been more than a year since the first case of COVID-19 was confirmed in Alberta, and many of us are reflecting on what this experience has meant in our lives, and in the lives of our fellow Albertans.
"This mural honours the extraordinary efforts, sacrifices and journey of Alberta's healthcare workers throughout the pandemic. We thank you for everything you've done, and everything you continue to do."
The mural is on display at the McMullen Gallery in the UAH through August. Afterwards, it will be moved to a permanent space in the hospital.
Learn more about AJA Louden, who is known for his bold and arresting freehand spray-painted portraits of pop culture figures as well as his hand-lettered designs and vibrant patterns borne of a background in graffiti. Louden looks to bring a multifaceted, collaborative and multi-narrative approach to contemporary urban muralism. His work can be found around the province of Alberta and in several other countries, including Berlin, Barcelona, Florence, Prague and the United Kingdom.