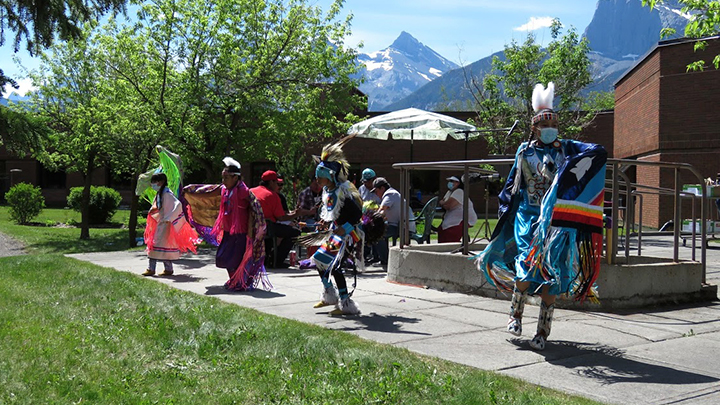 A traditional dance honoured the children of the Kamloops residential school during a ceremony held on National Indigenous Peoples Day to announce the new Indigenous Reconciliation Garden at Canmore General Hospital. Photo supplied.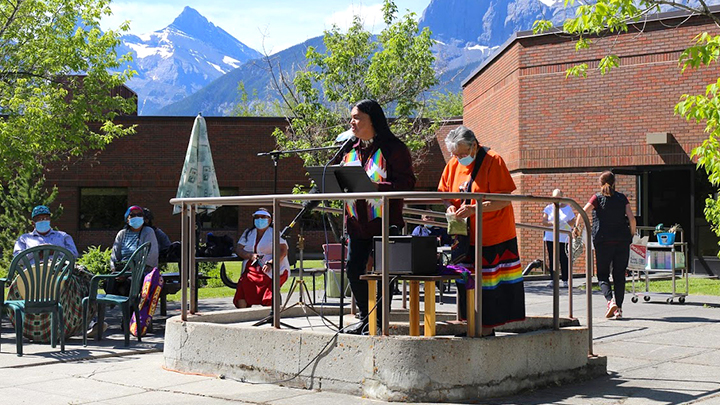 Kenny Hunter, an Indigenous liaison with Canmore General Hospital, speaks at a ceremony for the facility's new Indigenous Reconciliation Garden. Photo supplied.
Indigenous Reconciliation Garden opens at Canmore General Hospital
Story by Cassie Ford
A newly-designated garden at Canmore General Hospital highlighted National Indigenous Peoples Day recently with a ceremony to bless the space and celebrate Indigenous cultures.
The Indigenous Reconciliation Garden will be a place for Indigenous patients and their families to gather for prayers, ceremonies and cultural counselling.
Kenny Hunter, an Indigenous liaison with the hospital, says he hopes the space will bring a sense of peace and belonging to Indigenous patients and their loved ones.
"I want people to feel a sense of belonging knowing this area is for them to enjoy," he adds. "They can openly pray and practise our culture in tranquility and privacy."
Hunter is a member of the Stoney Nakoda Nation, whose people make up nearly a third of all patients who visit the hospital each year.
The idea to designate a garden for Indigenous families came from Pamela Kathol, volunteer coordinator for Banff and Canmore. After hearing of the discovery of 215 children in unmarked graves at a residential school in Kamloops, she wanted to do something to acknowledge their lives.
"The garden will bring forward an awareness and acknowledgement of what happened and, hopefully, bring us together to share in that grief."
In a matter of weeks, Hunter and Kathol arranged the June 21 event.
"Because of COVID-19, we didn't know if we would get the green light, so we arranged the speakers and dancers on short notice," says Hunter.
The ceremony began with the setting-up and blessing of the teepee and an opening prayer delivered by Elder Tina Poucette. She also performed a land-site blessing and land acknowledgement.
Hunter says he found the entire program meaningful, but what stood out most for him was the honour song for the children of the Kamloops residential school. He passed out orange ribbons, and while children performed a traditional dance, participants tied the ribbons to the surrounding trees in remembrance.
"The honour song really touched me," adds Hunter. "It was very emotional for me to watch children dance in honour of the children who had died."
The event also featured an address by Trent Fox, an Indigenous language and literacy educator, and a presentation by Theresa Snow on Missing and Murdered Indigenous Women.
Going forward, the hospital's annual National Indigenous Peoples Day ceremony will be held in the Reconciliation Garden.
"I do thank the hospital for this wonderful tribute to Indigenous patients and families," says Hunter. "These grounds will help bring awareness of our heritage and acknowledge Indigenous people in a meaningful way."