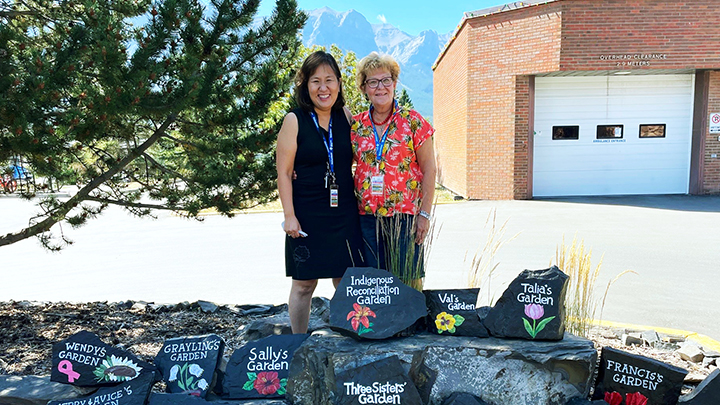 Volunteers Michiko Ellis, left, Rose Chobaniuk hand-painted each sign for the Canmore Hospital Gardens. Photo supplied.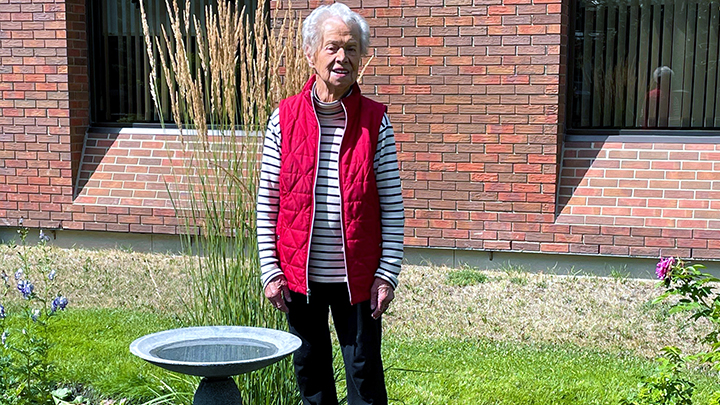 Pat Grayling, a long-time AHS volunteer, poses next to the garden named in her honour. Photo supplied.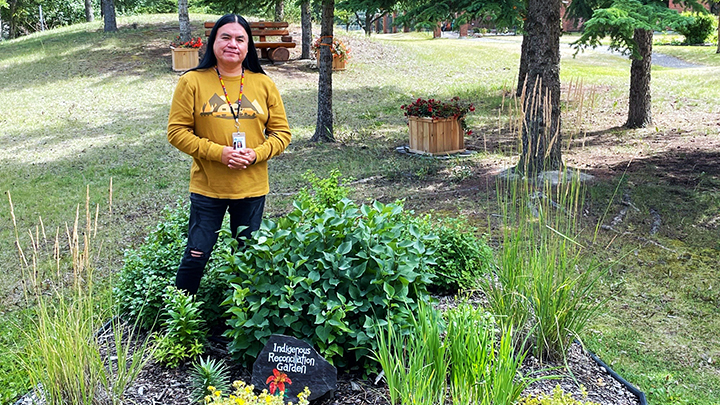 Kenny Hunter, an Indigenous liaison at Canmore General Hospital, visits the Indigenous Reconciliation Garden. Photo supplied.
Volunteers hand-paint signs for themed green spaces
Story by Cassie Ford
Unique, hand-painted signs now adorn the gardens of Canmore General Hospital thanks to local artists and volunteers in the gardening program.
Michiko Ellis and Rose Chobaniuk painted 16 large rocks to use as signage for the newly-named gardens in the grounds that surround the hospital. Each of four areas — front, back, cancer clinic and long-term care centre — features a handful of small gardens.
Last fall, the Canmore Hospital Foundation reached out to the community — as well as to volunteers and local businesses who gave of their time and resources — to suggest names for the gardens. Then Ellis and Chobaniuk, who also tend the gardens weekly as volunteers, created the rock signs.
"We didn't plan the designs ahead of time," says Chobaniuk. "We read the paragraphs we got about each garden and painted whatever clicked."
The stories and the namesakes behind the signs provided the inspiration for their creations.
"I wouldn't have any specific flower I wanted to paint," says Ellis. "It would just come to my mind when I was reading the story, and that is how I applied colour to the flowers on each sign."
Both cancer survivors, Ellis and Chobaniuk are long-time friends who reconnected through the Arts in Medicine program at the Bow Valley Community Cancer Centre. Both enjoy volunteering as an opportunity to give back to their healthcare community.
"The staff and volunteers at the cancer clinic helped me get through my treatment and gave me hope, comfort and courage during the toughest time in my life," adds Ellis. "I'm healthy now because of them."
Chobaniuk says the gardens reflect her gratitude for the community — and hopes visitors will be engaged by the stories behind them.
"If something triggers in your mind when you see Wendy's Garden or Finnegan's Garden, ask us about it," she adds. "They're there thanks to the generosity of all of these people — and it's so heartwarming to see all they've given to the hospital."
The 36 volunteers in the Canmore Gardening Program have given hundreds of hours of their time to cultivate and maintain the scenic gardens for patients, residents and staff to enjoy.
Ellis says she hopes the gardens provide a sense of peace and positivity for patients and their loved ones.
"The gardens can help bring sunshine to what might be a difficult day — and a smile to the faces of people going through a tough time in their lives."