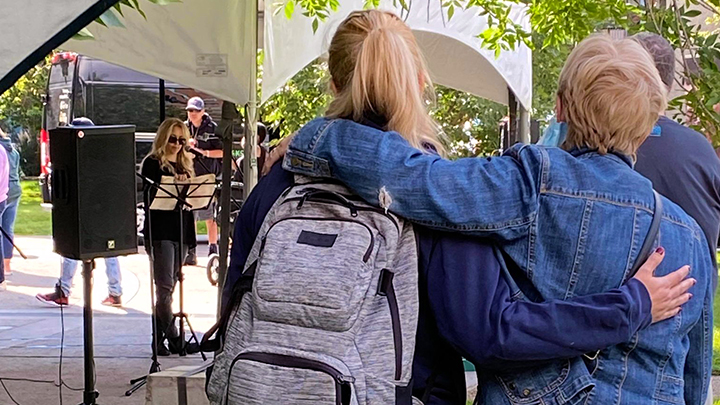 Family members share a hug in memory of loved ones lost to drug use at an Overdose Awareness Day event hosted by the AHS Safeworks team at Central Memorial Park in downtown Calgary. Photo supplied.
AHS Safeworks hosts Overdose Awareness Day event in downtown park
Story by Bruce Conway
Purple light bathed the Calgary Tower for the evening of Aug. 31 as events took place around the world to mark International Overdose Awareness Day 2021.
The day seeks to create a better understanding of overdose, lessen the stigma of drug-related deaths and create change to reduce the harms associated with drug use.
In Alberta, communities around the province gathered to remember those who have died or suffered permanent injury due to drug overdose. One of these events — hosted by the Alberta Health Services' (AHS) Safeworks team — attracted a gathering at Central Memorial Park in downtown Calgary.
"It was a great event," says Roberta Corea, program manager of Safeworks. "To meet the people who have been affected by overdose, to hear their stories and to see so many organizations come together to support such a worthy cause … it was truly touching."
Team members set up tables and gave free backpacks — filled with hygiene supplies, hats, reusable water bottles, clothing and snacks — to people in need.
Staff also provided training on the use of naloxone kits, while the Safeworks also provided testing for Sexually Transmitted Infections (STI) and Blood Borne Pathogens (BBP).
Attendees took advantage of the opportunity to write messages on purple leaves, to loved ones who've been lost to overdose, and hang them onto a remembrance tree crafted by a staff member and her partner.
More than a dozen community partners set up resource tables to offer a wide range of services and supports such as COVID-19 immunization and Rapid Hepatitis C testing (CUPS), HIV Community Link, Safe Communities Opportunity and Resource Centre (SORCe), Circle of Wisdom, Elbow River Healing Lodge and Punjabi Community Health Services, to name a few.
"Bringing awareness to the overdose epidemic is essential to ensure we address this important public health crisis," adds Corea. "We could not have done this without the help of our community partners."