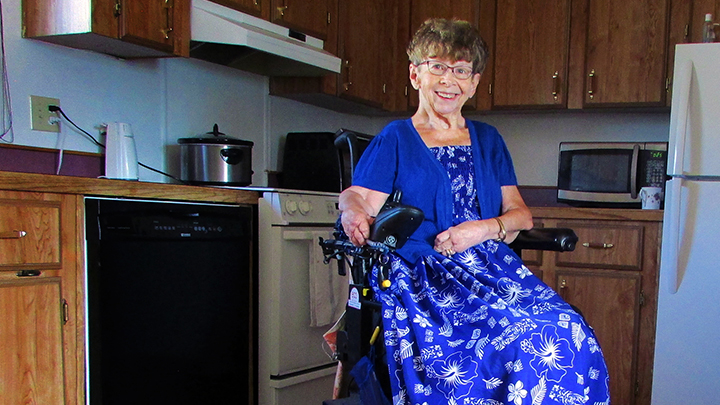 One senior who's eating healthier thanks to Red Deer's malnutrition initiative is Linda Shepherd. "I learned a lot from the resources in this project," she says. "For example, I started adding milk to my soup for extra calcium. I'm also trying new ways to get more protein." Photo supplied.
Collaborative effort combats malnutrition in seniors
Story by Karolina Sekulic
Malnutrition means not getting enough nutrition for health — and it happens right here in Alberta.
Earlier this year, several teams joined forces to find and address malnutrition in adults 65 and up in Red Deer. Partners include the Diabetes Obesity and Nutrition Strategic Clinical Network (DON SCN), Red Deer Primary Care Network (RDPCN), Golden Circle Seniors Resource Centre, Nutrition Services and the University of Alberta.
"Addressing malnutrition, both in hospitals and the community, is one of our top priorities," says Marlis Atkins, director, Provincial Initiatives & Integrated Services for Alberta Health Services (AHS).
"No one can do this alone. We hope we can start the spread of collaborations like this across the province so we can all be nutrition champions and decrease the incidence of malnutrition in Alberta."
Staff from Golden Circle and the RDPCN stepped up to screen seniors to identify nutrition issues that may put them at risk for becoming malnourished. The goal is to detect nutrition problems early to avoid future health concerns. Seniors found to be at risk are provided nutrition resources and supports, and if necessary, referred to a health professional for guidance.
Some of the screening questions really hit home for Linda Shepherd, a patient advisor who's been reviewing resources and sharing her perspective as a senior.
"Having a one-on-one conversation with someone can uncover problems that you might not have a chance to mention to your physician, especially if you're limited to discussing only three items per visit," she says.
"I learned that not getting enough nutrition can lead to muscle wasting and bedsores. I want to stay strong and independent — and live at home as long as I can."
Lori Watts, manager at RDPCN, adds: "Malnutrition negatively affects patients' health, quality of life and recovery. It starts in the community. Adults 65 and older may be more likely to experience malnutrition.
"Since June, we've gathered 200 screens in Red Deer. Patients are referred to physicians for swallowing problems, or to AHS dietitians who tailor nutrition recommendations for protein and calorie intake to address unintentional weight loss."
The DON SCN and the University of Alberta are on board to evaluate this project to inform future efforts to tackle malnutrition in Alberta.
Canadian Malnutrition Awareness Week runs Oct. 4 to 8. To learn how you can be a champion to reduce the risk of malnutrition and improve care, visit our AHS website.