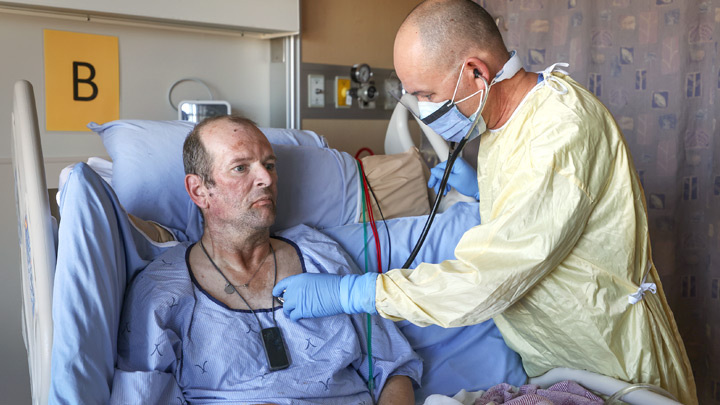 A member of the healthcare team listens to the lungs of patient Tracey Barclay. Barclay tested positive for COVID-19, and now plans to get the vaccine just as soon as he's able.
COVID-positive patient now plans to get immunized, urges others to join him
Story by Tracy Kennedy | Photo by Leah Hennel
Tracey Barclay knows just how fortunate he is, after surviving a brush with death due to COVID-19.
The 52-year-old resident at Points West Supportive Living in Red Deer thought he was fine, albeit a bit "off" — until his physician told him he was being transported to Red Deer Regional Hospital Centre.
The virus struck quickly, and his mother was called to his side.
"I guess I was slipping because my oxygen levels were dropping, so my mother was sitting with me because they thought I might die," says Barclay.
"She was talking to me and I felt kind of sleepy but I never had lung congestion and I wasn't coughing. I just had no appetite and felt kind of tired all the time. Those were my only symptoms, and that's what makes it so scary."
Barclay was treated with oxygen therapy and his condition has improved. He says it's been a very emotional week. He has now reversed his position on vaccination — having originally chosen not to get vaccinated because of his fear of needles and some misinformation.
"I was doing some research and I heard some bad things, about how the vaccine interacted with Multiple Sclerosis, which I have," he adds.
"I heard about some bad reactions and stuff like that, and I thought, well I have a strong immune system, I'll just try my best without it. And well, that didn't work out quite as well as planned."
A member of Barclay's healthcare team, Iain Hughes, says this is not the first time he's encountered a patient who's changed his thoughts about the COVID vaccine.
"It's OK to have your opinions, but what we've seen is how the vaccine minimizes how much COVID is going to harm you," says Hughes, a licensed practical nurse.

"It's been an eye-opener in what people feel and believe – but here, we don't judge either way. I treat people like people, and treat the illness second."
For his part, Barclay says he's grateful for the treatment he's received.
But knowing that his vaccine hesitancy nearly cost him his life, he now plans to get the vaccine just as soon as he's recovered — and would like to persuade others to get immunized as well.
"Do it. I almost died because I chose not to get vaccinated," he says. "How many chances do you get?"