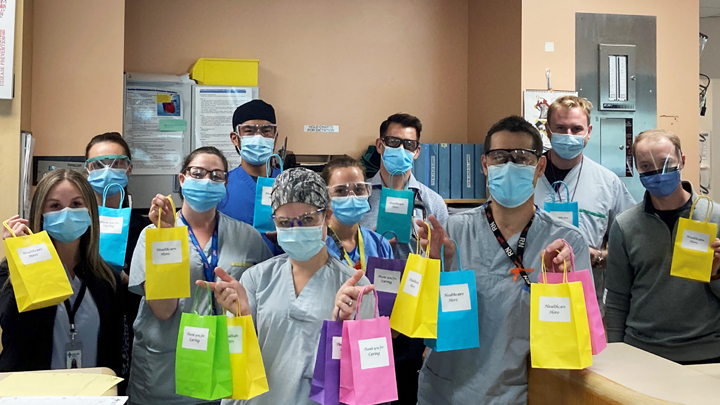 Members of the ICU team at Chinook Regional Hospital were delighted with their gift bags, a token of appreciation from the community and the congregation of McKillop United Church in Lethbridge. Photo supplied.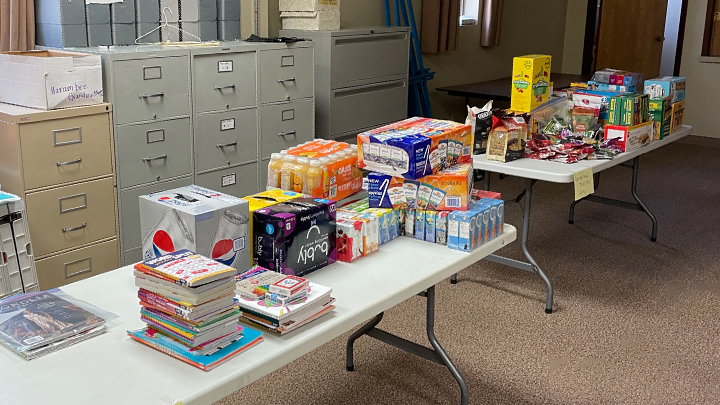 Beverages, magazines, snacks and more were only some of the goodies delivered by members of McKillop United Church to frontline healthcare staff at Chinook Regional Hospital. Photo supplied.
Community show of appreciation moves Lethbridge emergency, intensive care teams
Story by Sherri Gallant
It was late September when Pastor Trevor Potter and the staff at McKillop United Church started brainstorming about how they could say "thank you" to the staff at Chinook Regional Hospital.
"We are feeling so grateful for healthcare workers during the COVID pandemic," says Sarah Dalby, community connection co-ordinator at the church.
"We talked about making some care packages and delivering them to the hospital. Then Trevor told us about a local news story he saw where people had been protesting outside the hospital."
Dalby added that the church swiftly moved its services online when the pandemic began to keep its congregation safe.
"We take it seriously. To see people not taking the pandemic seriously — and choosing to protest at a hospital where people are tirelessly working to save other people's lives — just really didn't sit right with any of us. So we decided to go ahead with the care packages, but we also invited the entire community to take part. We posted on Facebook, giving people three days to drop off items, if they wished.
To her delight, the response was, in Dalby's words: "Bananas!"
"For those three days we were running in and out of the building at least once an hour to clear off the tables because so much was coming in," she says.
"It was amazing. Then some teachers dropped off envelopes with 250 letters and drawings their students had done. We read them all — and they were so heart-warming.
"One set of letters in particular that really touched me and my colleagues came from a woman who said she is a Syrian refugee. She talked about how where she came from there was no access to healthcare, and so not only is she so grateful to have healthcare, but also grateful there are people in our system who stay with it, and show up every day to save people's lives."
Along with the letters and artwork, $2,500 in cash and enough non-perishable, individually-packaged food items to fill eight large boxes were received. To ensure that every staff member in the Emergency Department (ED) and the ICU (100 people work on each unit) would receive something personally, they used the cash to buy everyone a $10 Starbucks gift card.
After reaching out to hospital leadership, they headed over to the hospital on the morning of Sept. 27.
"The gift from McKillop Church was, to say the least, incredible," says Marilyn Bartoshyk, director of Critical Care, Respiratory Health and Cardiac Sciences.
Taking only a small cart to collect the gifts, Bartoshyk went down to receive the donation with Kevin Iwaasa, ICU manager.
"We couldn't believe our eyes when we saw two large pallets loaded with food, gift cards and inspiring messages," adds Bartoshyk.
"We can assure you that each and every one of the frontline staff, overwhelmed by the kind gesture, are enjoying and appreciating the gifts and messages — and it helps to make up for all the meals they have missed over the past several months.
"We cannot say enough about how inspiring it is to work alongside such a talented and dedicated team of healthcare professionals — who work relentlessly to care for the sickest of the sick — and what it means to know that others (in the community) appreciate them as much as we do.
"Our team includes doctors, nurses, respiratory therapists, nursing attendants, dietitians, pharmacists, physiotherapists, occupational therapists, clerical staff, housekeeping staff and porters. (This act of) kindness and generosity meant the world to all of them."
Bartoshyk says she hopes to thank the McKillop team in return, someday.
"When the pandemic comes to an end and life normalizes," she says, "we would be happy to provide some of the church members a tour through the ICU. Alternately, we could ask a few of our physicians or other team members to attend a church function and talk to the congregation about our battle through the pandemic.
"Their thoughtfulness during this very stressful and exhausting time is so appreciated, and when the timing is right, we want to give back."