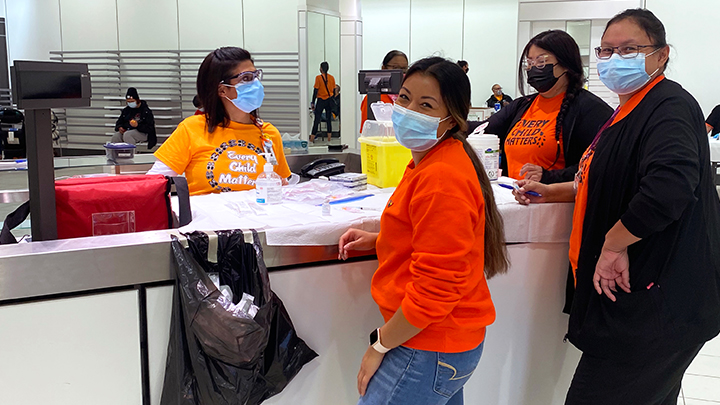 Aakom-Kiyii Health Services staff — including Cassy Lucas, Abi No Chief and Shawna Grier — recently partnered with AHS to reach out to the local Indigenous community with a pop-up COVID-19 vaccination clinic at Park Place Mall in Lethbridge.
AHS, community partners make COVID-19 vaccine more accessible
Story & Photo by Sherri Gallant
When strong westerly winds threatened an outdoor COVID-19 vaccine clinic here recently, AHS staff and community partners showed it takes more than nature's bluster to hinder public health.
"The clinic was planned to reach urban Indigenous young adults and families," says Stasha Donahue, senior advisor, Health Equity, Public and Primary Health Care. "We were set up in the parking lot outside of (Park Place Mall), where we felt we would be visible to youth and parents of young children."
When the wind picked up, the group met with mall management, who welcomed them to make use of a vacant retail space indoors for a pop-up clinic.
"The mall was fabulous to work with and very accommodating," adds Donahue. "AHS maintenance personnel were awesome and delivered tables and chairs to the new location without complaint. Through word-of-mouth, people had heard about the clinic already, and there was a lineup before we opened."
Samantha First Charger, senior advisor, Indigenous Health, planned the event with Donahue, with a goal to make the vaccine available in a convenient location, one where people would already be.
"Stasha and I recognized some of the local clinics were not accessible for all the populations," says First Charger.
"Our plan was to use a multi-agency strategy for vaccinating the Indigenous population. It's a known fact that the Indigenous population face greater health inequities. Some experience financial barriers, they may not have transportation, and others have a general mistrust of the healthcare system. We wanted to remove any potential barriers. We wanted to create a clinic that was culturally safe, using an Indigenous-led innovative strategy built on partnerships and collaboration," she adds.
"Indigenous people need to lead their own health care initiatives — evidence supports that — and when they take ownership and control, this equates to better healthcare outcomes. The Indigenous communities are the experts on what they need."
AHS partners for the clinic included: Opokaa'sin Early Intervention Society, Sik-Ooh-Kotok Friendship Society, Aakom Kiiyii Health Department and Lethbridge Interfaith Foodbank. AHS provided vaccine, while the Aakom Kiiyii Health department of Piikani Nation provided the immunizers.
All who received a vaccine were also eligible for care packages containing non-perishable food and gift certificates — provided by Blood Tribe Dept. of Health and Aakom Kiiyii. As well, a hot meal that was served by the Interfaith Food Bank, outdoors in the parking lot to ensure social distancing.
Opokaa'sin Early Intervention Society and Sik-Ooh-Kotok Friendship Society were also on hand to share information and connect with clients as Indigenous service providers.
"This outreach clinic was very well received," says Donahue. "In all, 96 doses of vaccine were provided. The majority of these were first doses — 58 out of 96. Most of those who were immunized were among the group we had intended — young urban Indigenous adults and parents of young families.
"A few came who didn't meet the target group criteria, but they received the vaccine anyway, as we didn't turn anyone away. Everyone worked so well together."
Donahue is gathering feedback from participants to shape future outreach initiatives.
"From my population health lens," she adds, "this clinic illustrated the value of a population-health approach to inform our practice. I looked at population indicators of immunization, and considered those at risk of COVID spread — young adults and families with school-aged children.
"Also, we know that there are barriers to service access for our Indigenous population. Some of it involves acceptability. Partnering with agencies that Indigenous families trust and are familiar with helps knock out that barrier. We also chose a place that was relatively accessible — somewhere that many of the intended target group go on a regular basis."