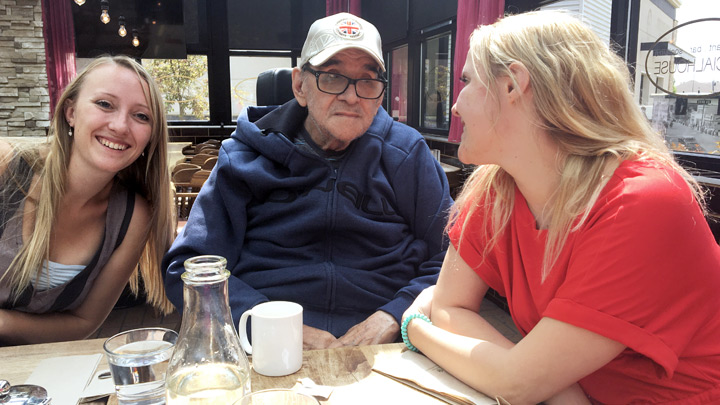 Amy Berlinguette, left, and Kaylin Berlinguette enjoy a meal with their grandpa Gordon Gross. He came down with COVID-19 early in the pandemic, and the family feared they would lose him. Today, Gross is slowly recovering and living with the effects of Long COVID. Photo supplied.
Hit hard early in pandemic, senior still in recovery from Long COVID
Story by Tracy Kennedy
When Gordon Gross came down with COVID-19, it felt like the world had collapsed on him. Today, he's making small strides back to health, with the love and help of his family.
The 81-year old Red Deer man got the virus early in the pandemic, before he qualified to receive a vaccine along with other members of vulnerable populations 75 or older.
"It was hard on me. Damn hard," says Gross. "I thought I was going to die."
Fear took hold. He says he was scared a lot — and found it "devastating" that he couldn't see his family while isolated in hospital.
Members of his family found it equally difficult, including his granddaughter Kaylin Berlinguette.
As a recreation aide at a residential care community, Berlinguette has had an intimate glimpse into how COVID has affected seniors over the course of the pandemic.
"He was in distress and confused, and we couldn't be there to help him," says Berlinguette, 22. "When it's someone you're close to, it hits a bit differently. I think it was especially hard for the rest of my family to see the drastic change, because when you see someone one way for so many years, and then you see the change — that can be a bit of a shock."
While Gross' health is improving, he's now dealing with Long COVID. His lungs are permanently damaged and, like others who suffer for weeks or months with Long COVID, he experiences weakness and fatigue, brain fog, trouble with memory, difficulty swallowing and loss of smell.
"I think people kind of forget that, along with people dying, there are other ways people are suffering when it comes to quality of life," says Kaylin.
Another granddaughter, Amy Berlinguette, 28, says her grandpa lost much of his strength in hospital and is only now starting to stand again.
"It's hard because he likes to be very independent and take care of himself, so it's hard to see him so reliant on others," she says.
"And socially, he's only now regaining motivation to leave his room. Now that he's in long-term care, he's met some friends and is participating in activities. It's nice to see our old grandpa back — his spirit has come back."
As a teacher, Amy received her COVID-19 vaccines as soon as she could. When her grandpa received his shots, she felt relief.
"Physically, this has taken a huge toll on him. At one point, we weren't sure he was going to make it, and that was pretty scary," she says.
For his part, despite the lingering physical symptoms, Gross says he's grateful to be on the other side of COVID-19.
"If it wasn't for my family, I wouldn't have made it. I'm on top of the world and finding my way again. I get to see my family again … and that's fantastic."