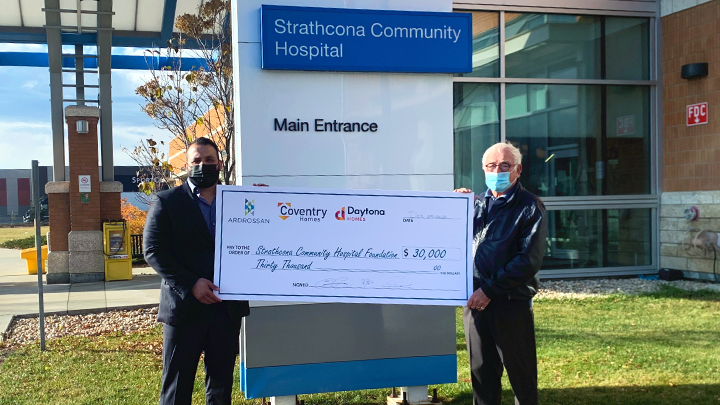 On Oct. 25, the Strathcona Community Hospital Foundation celebrated a $30,000 donation from Strata Development Corp., Daytona Homes and Coventry Homes toward new central monitoring equipment at the Strathcona Community Hospital. Shown at the cheque presentation are, from left, Robin Nasserdeen of Coventry Homes and Ken Lesniak, foundation chair.
Strathcona Community Hospital Foundation receives $30,000 for monitoring equipment
Story & Photo by Amelia Schofield
Strathcona Community Hospital Foundation is celebrating a gift of $30,000 to support more central monitoring equipment for the emergency department of Strathcona Community Hospital, all thanks to community donors Strata Development Corp., Coventry Homes and Daytona Homes.
Strata Development Corp. hosted the grand opening of its Coventry and Daytona Show Homes in Ardrossan on Sept. 11. For each person who visited the show homes, the companies pledged to donate $100 to the foundation, up to a maximum of $30,000. The event proved highly successful, attracting around 400 people.
"Donations like this help to make a major impact on the care we deliver to our patients," says Jessica Leigh, acting site director, Strathcona Community Hospital. "We really appreciate their remarkable support."
Currently, healthcare providers in the emergency department monitor patient vitals using bedside monitors in each patient room. The information is then displayed on central monitors at the nursing station to allow for close observation of patient status. The builders' gift will help facilitate the central monitor and wiring needed for more nursing stations, which will allow close observation for all patient care spaces in the department.
Andrew Usenik, partner with Strata Development Corp. says that his company, along with Coventry Homes and Daytona Homes, are proud to step up.
"As a community, we work with a lot of local charities and throughout the pandemic," he says. "One thing that has not been lost on us is the fact that it's been really tough for these charities to fundraise for the past 18 months. For us, it was a no-brainer opportunity."
In addition to the donation by Strata Development Corp., Coventry Homes and Daytona Homes, the foundation received a $5,000 private donation and allocated funds from their 2021 golf tournament toward the new central monitoring equipment to cover the total expected cost of $50,500.
"There is not a word to describe the generosity and support that the business community and the citizens of Strathcona County have shown to our community hospital," says Ken Lesniak, foundation chair.
"The central monitoring system that these funds will provide will make work easier for our staff and will provide for more efficient care to those who are served by our hospital."
Since 2014, the foundation has raised more than $258,000 for new medical equipment at the hospital. Its board of directors comprises dedicated volunteers from Strathcona County community.
---
See more information on the Strathcona Community Hospital Foundation.