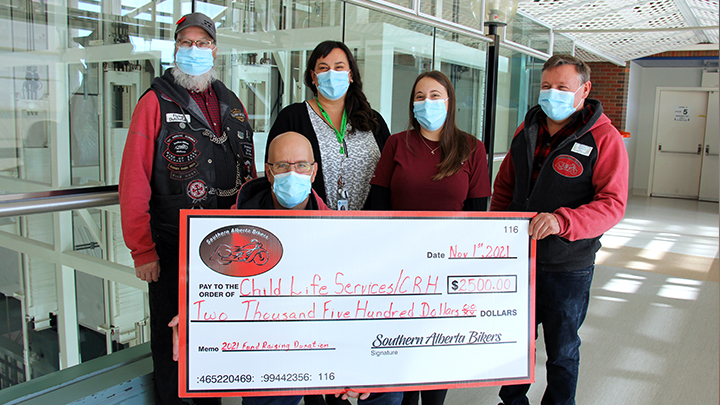 A ceremonial cheque presentation to fund pediatric supplies at Chinook Regional Hospital was attended by, from left: Harvey Kootse, community liaison, Southern Alberta Bikers association; Dallas Harty, association president; Jodie Anderson-de Boer and Brandi Emes, child life specialists; and Michael Fick, association vice-president.
Southern Alberta Bikers raise $2,500 for children and adolescents
Story & photo by Sherri Gallant
A donation from southern Alberta motorcycle enthusiasts has Chinook Regional Hospital staff excitedly drafting a pediatrics wish list.
Typically each fall, members of the Southern Alberta Bikers association fill the hospital's storeroom with toys from their annual Southern Alberta Toy Run, says Jodie Anderson-de Boer, a child life specialist who works in the hospital's Pediatric Unit and CAMP (Children & Adolescent Mental Health Program).
"But this year, because of the COVID pandemic, they decided instead of buying toys they would give us a cash donation so we could decide what to get," she adds.
"This $2,500 cheque is the largest donation we've received from the group. When we get cash donations, they're often used to replenish art supplies for our patients, and other materials that we go through a lot of. A donation of this size requires more thought, and we do have lots of ideas for what we might spend it on. We're so grateful to the Southern Alberta Bikers for their generosity."
Dallas Harty, president of Southern Alberta Bikers, says 2021 marked the 40th year for the Toy Run, which raises funds for a variety of local causes.
Harty and two associates presented a ceremonial cheque in November to Anderson-de Boer and her colleague Brandi Emes, with funds going to the Chinook Regional Hospital Foundation, earmarked to pay for non-clinical items for the unit.
"Our event was really successful this year," says Harty. "Child Life Services here at the hospital is always on our list — and we're excited to find out what they end up spending the money on for the kids."
Anderson-de Boer says her wish list includes sensory items like weighted blankets, a projector, bubble tube, fidget and manipulative textiles, large gym mats, a therapy swing and foam blocks to create a sensory corner.
---
Anyone who wishes to donate money to pediatrics, to the CAMP program or to any department at Chinook Regional Hospital should connect directly with the CRH Foundation, 403-388-6001, or visit their website.