Patient Dorene Binks, right, strikes a happy pose with Kyle Connely, manager of Radiation Therapy at the new Grande Prairie Regional Hospital.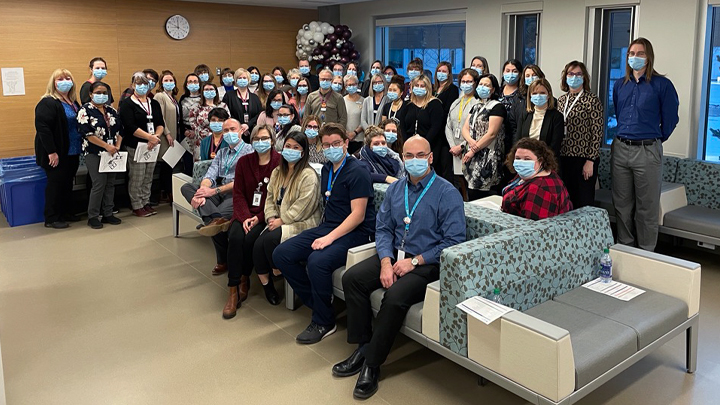 The team at the new cancer centre within Grande Prairie Regional Hospital includes a radiation oncologist, radiation therapists, dosimetrists, medical physicist, radiation nurse, administrative clerical support and supportive services providers. Photo supplied.
Care team at new hospital eliminates long, wintry drive to Edmonton
Story by Jennifer Green
GRANDE PRAIRIE — The opening of the new cancer centre at Grande Prairie Regional Hospital has brought a sense of relief to those who need treatment in the community — now they can be treated close to home without having to travel almost 460 km to Edmonton.
"Going through cancer is hard enough without having to leave home. Being able to have treatment here means that I don't have to travel through poor winter conditions to receive treatment in Edmonton," says Dorene Binks, the hospital's first radiation therapy patient.
"Having treatment in Grande Prairie just makes everything more normal. My family is close by, and they are able to help support me if needed."
Binks isn't just the first to receive radiation therapy at the centre, but she's also become the first person to receive this kind of treatment this far north in Canada.
The Radiation Therapy (RT) department provides treatment to manage patients who present with a primary diagnosis of genitourinary (GU), gastrointestinal (GI), lung or breast cancer. The RT team comprises a radiation oncologist, radiation therapists, dosimetrists, medical physicist, RT nurse, administrative clerical support and supportive services providers. Systemic therapy is also available at the new centre.
Alberta Health Services' (AHS) staff say they are equally thankful to have such services available in their community.
"Having our Radiation Therapy program officially running in Grande Prairie is so exciting for all of us," says radiation therapist Aiden Mazer. "Patients have been providing positive feedback on being able to stay here.
"It's fantastic that they don't have to travel and can receive support from family and friends close to home. Finding accommodations and juggling travel expenses can be a large burden, so we are glad that our patients can avoid all this now, especially in extreme weather conditions."
The RT department expects to do 250-300 consultations over the year. As it grows and develops over the next couple months, the department expects to treat 20 patients daily throughout the week.
Radiation therapy here is delivered using a Philips Big Bore CT-simulator that's designed to plan radiation therapy treatment, as well as two Varian TrueBeam linear accelerators that deliver high-dose ionizing radiation energy.
The department dosimetrist also uses an advanced software to customize a radiation therapy plan for each patient, as prescribed by their radiation oncologist. Radiation therapy also includes comprehensive nursing care with assessment, coordination of care, referrals to interdisciplinary team, and symptom management.
"I felt very confident coming here to receive my treatment. The staff were terrific, friendly, and interested in me," adds Binks.
"Being able to trust people providing care is a big part of the healing process. Healing is the treatment itself and the support that one receives. Healing is also living your life the way you want to live it. I'm thankful for this type of care at home."
Grande Prairie is the fifth centre in Alberta — and the first in AHS North Zone — to offer radiation therapy. The new Grande Prairie Regional Hospital opened on Dec. 4, 2021.