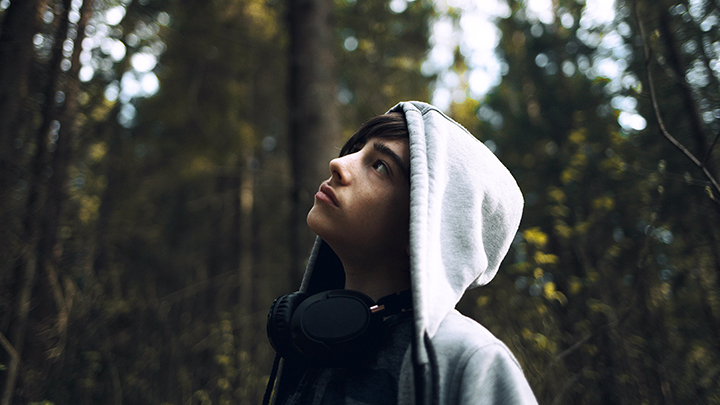 AHS' new Acute at Home program provides mental health support for four to six weeks, enabling youth aged 13 to 17 to move through a crisis and stay out of hospital. Photo supplied.
Acute at Home team helps teens recover away from hospital
Story by Tracy Kennedy
RED DEER — A new team here is helping youth in mental health crisis by walking alongside them on their path to wellness.
A mental health therapist, social worker, registered psychiatric nurses and mental health aides are now in place for the new Acute at Home program, launched last September across Alberta Health Services' (AHS) Central Zone.
The program provides support for four to six weeks, enabling youth aged 13 to 17 to move through a crisis and stay out of hospital. Instead, the youth — and their families — receive support from the healthcare team in a clinic setting, or at home through virtual options, while connections are made with other service providers such as schools, counsellors and physicians.

"We know people can feel overwhelmed as youth and their families go through one of the most difficult times in their lives in experiencing a crisis," says Amy Klimosko, director for Red Deer Child, Youth and Family Addiction and Mental Health, AHS Central Zone.
"At the same time we needed a way to alleviate the growing pressures on the emergency room and the limited number of youth beds dedicated to addiction and mental health in the zone. This program fills that gap."
The pressure on emergency rooms and acute care admissions has been building.
Approximately 1,000 unique youth patients visit the emergency room in Central Zone annually for addiction and mental health issues. Meanwhile, the numbers have increased 84 per cent in acute care since 2016/17, and demand has increased 37 per cent in addiction and mental health community clinics.
While some of the increase may be attributed to the impacts of the pandemic, it's also due to a lessening of the stigma surrounding mental health — resulting in more people reaching out for help and care.
So far, for youth in mental health crisis, the new support of Acute at Home has seen 127 cases diverted from emergency and acute care admission. Factoring in a typical five-day length of stay, that equates to 635 acute care bed days being freed up for more urgent patients over the past three-and-a-half months.
As an example, Klimosko shares the case of a teen who was suicidal when she went to the emergency at Red Deer Regional Hospital Centre. After a referral from the hospital team, the Acute at Home nurse soon connected with the youth, set up an urgent psychiatric assessment and provided daily emotional support for the first two weeks to help the teen past the crisis.
The nurse also checked in regularly, until ongoing appointments were secured with a therapist in the community. She also connected with the teen's family doctor to discuss the case, which led to lab work and a change in medication.
Throughout the patient journey, Acute at Home kept her parents involved, and helped the family navigate the healthcare system.
"Perhaps, most importantly, the nurse summarized in a letter the changes that had been made — and included what coping strategies worked best for the youth. To assist with continuity of care, the teen can now present that letter to any other service provider, or to anyone in emergency, should she need to go again," adds Klimosko.
"We know that having to tell one's story again and again to a different person in the healthcare system can be frustrating and difficult. We've heard from the family that they felt supported and grateful for the help we've provided."
Currently offered by referral only in Red Deer and area, Acute at Home responds within 24 hours and offers appointments seven days a week, including evenings and weekends. A similar program operates in Calgary through Alberta Children's Hospital.