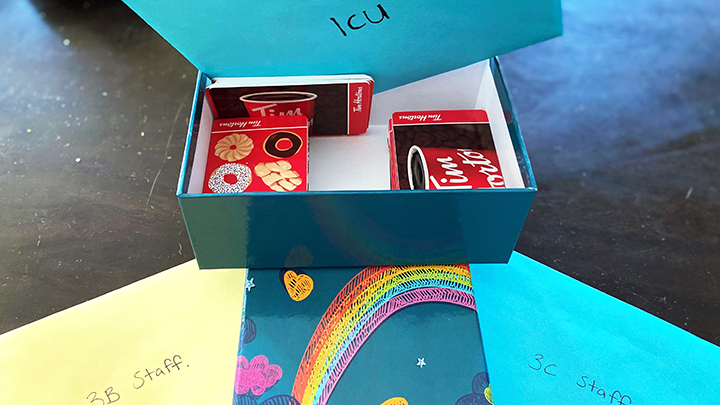 Chinook Regional Hospital staff who work in acute care recently got a morale boost — thanks to handwritten notes of appreciation and gift cards for a sweet treat — from the local public health team. Photo supplied.
Lethbridge public health team boosts morale with thoughtful gift to acute care colleagues
Story by Kelly Morris
LETHBRIDGE — A small gesture can go a long way to lift spirits for a colleague. Staff on acute care units at Chinook Regional Hospital recently got a morale boost thanks to a thoughtful gift — handwritten notes of appreciation and gift cards for a sweet treat — from the local public health team.
"It's very humbling, to know that other nurses feel like they want to reach out to you, and tell you they're thinking about you," says acute care nurse Jennifer Scherer. "Some days, you're going in to work and you don't know what you're going to see or do, and then you have something like that happen, and it just keeps you going. It gives you way more fuel."
The morale boost, in the form of Tim Hortons gift cards and numerous notes of encouragement, were delivered by Scherer's good friend Nancy Peter, on behalf of the public health team. Last fall, Peter and her colleagues Debra Greeno and Debby Holloway worked in contract tracing, reporting discharges and deaths to Alberta Health, watching the numbers climb as the fourth wave of COVID-19 hit southern Alberta.
"We felt heavy-hearted here in public health. We wanted to do something, physically do something, to support our acute care staff," says Peter. "We wanted to send words of encouragement, to let them know that we see them and that they're not alone."
So they put out the call for words of encouragement and also invited colleagues, if they wish, to contribute towards a few $5 gift cards.
"The contributions came pouring in," says Peter. In October, the public health team delivered the notes and 73 gift cards to their colleagues in acute care.
"It's super-uplifting, and morale-building," adds Scherer. "It's not something I would have thought of before, this kind of appreciation. It's just what we do, we're doing our jobs.
"It's been hard. There are a lot of nurses struggling, so this extra bit of recognition is so important, to give that extra boost. We're very, very thankful, that our colleagues are thinking of us. Their show of appreciation helps us more than they could ever possibly know."
On a personal level, Peter and Scherer have been good friends since nursing school. Working on different ends of the healthcare spectrum — one in preventive care, the other in acute care — they've continued to reach out to each other throughout the pandemic and leaned on each other for support.
"It's important to just check in on each other, go for a walk, not say anything about the pandemic and just be," says Peter. "Just providing that support and knowing that we're there for each other, if we need anything, is the most important thing."
"I hope (our co-workers in public health) know that what they're doing is just as important," says Scherer. "And we appreciate the extra work, and the weekends, and the longer hours. I hope that as nurses we'll all continue to support each other no matter what area we work in."