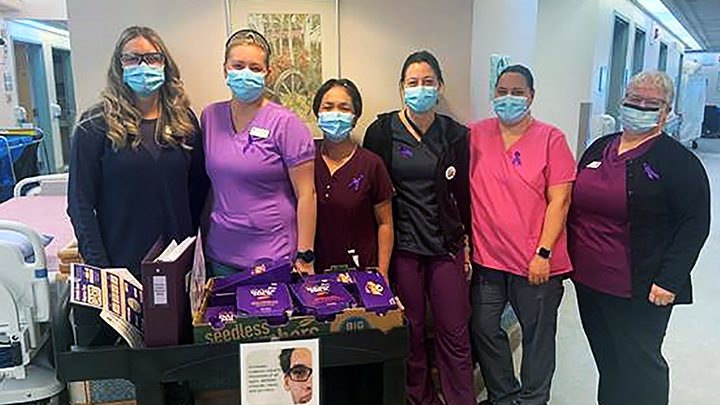 The Domestic Abuse Response Team in Westlock is one of 40 teams across Alberta who provide support to people experiencing domestic violence. Team members include, from left: Joanne Good, Kristen Lundman, Joan Samera, Anna-Marie Graf, Amie Brett and Anne-Marie Veenstra. Photo supplied.
Domestic Abuse Response Team help now available in dozens of Alberta communities
Story by Shelley Rattray
People who are experiencing domestic violence now have around-the-clock access to free, specialized services to support them.
The Domestic Abuse Response Team (DART), originally launched at Red Deer Regional Hospital Centre in 2017, has expanded over the past year to serve 39 additional communities.
"We know domestic violence impacts a person's health and it isn't always physical. Domestic violence can take many forms, including mental, emotional, verbal or sexual abuse," says Dr. Nicholas Mitchell, provincial medical director, Addiction and Mental Health with Alberta Health Services (AHS).
"Through the Domestic Abuse Response Team, we are able to help people and connect them to services immediately."
Funding for the DART expansion comes from a $2.6-million grant from the Government of Alberta designed to expand family violence services for rural, remote and Indigenous communities.
Albertans can request DART services at Alberta Health Services (AHS) and Covenant Health emergency departments, urgent care centres and select maternity wards in any of these communities.
Healthcare providers are also proactively screening patients for domestic violence and, on identification of these concerns, offering DART services regardless of the patient's primary medical or mental health needs.
DART can help individuals access specialized risk assessment, crisis intervention, emotional support, education, safety planning, safe accommodations, information about local resources, and connection to follow-up services.
As part of this grant, AHS plans to expand DART to additional communities in the coming months.
"By offering immediate support to our patients and educating our staff on domestic violence,
we hope to connect people experiencing domestic violence with the help they need," adds
Dr. Mitchell.
"As the pandemic forced Albertans to isolate, it may also have created an increased risk of domestic violence. And as we start to regain some forms of normalcy, it doesn't mean life will just go back to normal for many. Now, more than ever, we need to make sure people are aware of supports in place, where to get help and how to help others."
---
If you or someone you know is impacted by family violence, help is available. You do not need to be in crisis to access support. Check for local resources in your area by calling Health Link at 811.
Additional resources include:
The Family Violence Info Line (310-1818) is available toll-free to Albertans 24/7 in more than 170 languages.
The Family Violence Info Line chat is available daily from 8 a.m. to 8 p.m. (English only).
Emergency shelters throughout the province provide safe locations to stay for people fleeing violent or abusive situations.
Other supports are available through Alberta Government supports.