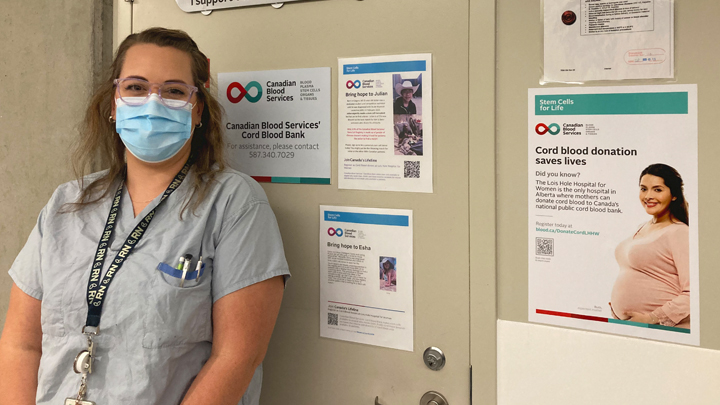 Kelsey Koch, a labour and delivery registered nurse at the Lois Hole Hospital for Women, donated her son's cord blood in 2016.
Lois Hole Hospital for Women celebrates seven years, 8,200 donors
Story & Photo by Sharman Hnatiuk
EDMONTON — When Kelsey Koch first heard that her son's cord blood donation from 2016 had been used for a stem cell transplant, she was overcome with emotion.
"I can remember my son Nixon seeing me cry. I told him we'd just gotten very good news, and that mommy was very happy," says Koch, recalling that special day in summer 2020 when she got the news on a certificate from Canadian Blood Services (CBS).
Cord blood is the blood left in the umbilical and placenta after a baby is born. It is rich in life-saving stem cells that can help treat more than 80 diseases and disorders. It also has the unique advantage that it can be collected in advance, stored and used immediately when needed, which shortens patient wait times associated with the search for a marrow or peripheral blood stem cell donor.
As a labour and delivery nurse at the Royal Alexandra Hospital's Lois Hole Hospital for Women, Koch was familiar with the possibility and simplicity of the CBS cord blood donation process. The site is home to one of CBS's four public cord blood banks across Canada, and the only one in Alberta.
"For me, donating my son's cord blood was a no-brainer," says Koch. "We had no use for it, and something that so often becomes medical waste had the potential to help someone else. Of course, I would want to help."
Donated cord blood does not need to be an exact match to a patient and can be a great option for ethnically diverse patients who cannot find a match within the stem cell registry. Cord blood transplants are also associated with a lower risk of graft-versus-host disease, a common and serious immune-mediated side effect of transplantation.
In January, the Lois Hole Hospital for Women celebrated seven years of cord blood donation at the site. In that time, almost 8,200 moms locally, among 40,000 across the country, chose to donate their newborns' umbilical cord blood, bringing hope for untold numbers of patients in Canada and around the world.
"When I donated, I never expected to hear if or when our donation would be used," adds Koch. "I look forward to the day when my son is old enough to understand how his cord blood may have been the gift of life."
---
Visit Canadian Blood Services to learn more about cord blood bank eligibility and registration.