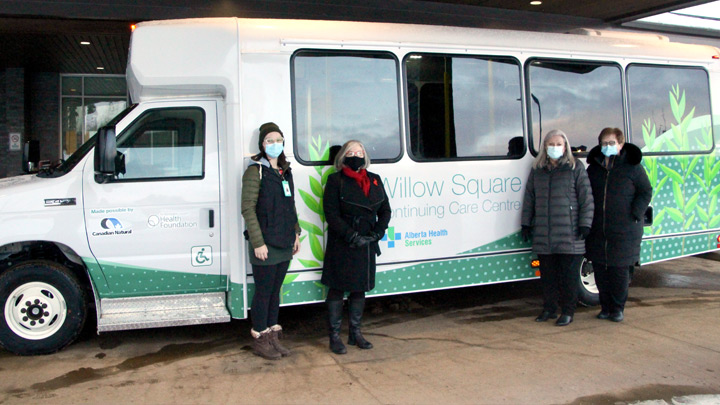 Striking a pose with the new handibus at Willow Square Continuing Care are, from left: Tiffany Sceviour, AHS recreation therapist; Cindy Amerongen, executive director, Northern Lights Health Foundation; Adele Thomson, land manager, Canadian Natural; and Darline Reid, manager, AHS Seniors Health, Fort McMurray. Photo courtesy of Northern Lights Health Foundation.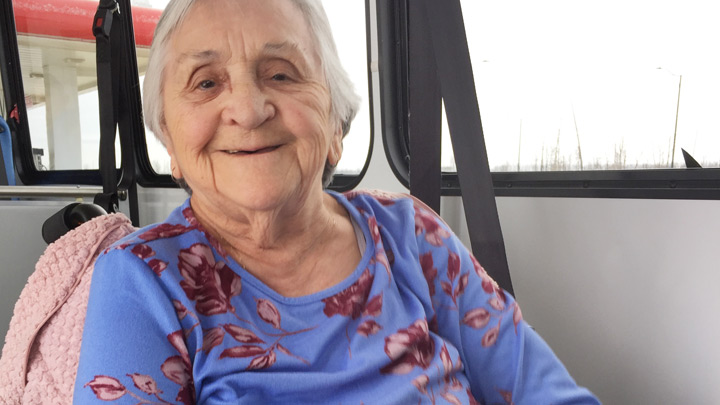 Willow Square Continuing Care Centre resident Geraldine Decker is all smiles while riding the new handibus. Photo supplied.
Dedicated transportation to boost social outings, rides to medical appointments
Story by Logan Clow
FORT McMURRAY — A new handibus for the Willow Square Continuing Care Centre (WSCCC) has rolled up to give delighted residents a safe and comfortable ride to attend their medical appointments and social outings.
Thanks to in-kind funding and support from Canadian Natural and the Northern Lights Health Foundation, WSCCC was able to buy the wheelchair-accessible Collins Low Floor handibus.
"Having a dedicated bus for Willow Square provides our continuing care residents with reliable and dedicated transportation for their medical appointments," says Murray Crawford, senior operating officer, Area 10. "The bus will also be used for our residents to attend community social events and activities.
"On behalf of Alberta Health Services (AHS), and the staff and residents of Willow Square, I'd like to thank Canadian Natural and Northern Lights Health Foundation for helping purchase the bus."
Willow Square, located at 6 Hospital Street, opened in June 2021 with 108 single, private occupant rooms — 36 for long-term care and palliative care and 72 for supportive living.
The bus, which arrived in December, seats eight and can accommodate three wheelchairs. One of its first excursions took residents cruising for a community Christmas Light Drive.
"Our residents are thrilled they now have access to dedicated transportation to attend their important medical appointments in the community," says Darline Reid, area manager, Seniors Health, Fort McMurray. "With its wheelchair accessibility and comfort, the bus has the ability to accommodate continuing care residents who have various care needs.
"We've been working for quite some time to secure a dedicated handibus for our continuing care residents. When using alternative means of transportation, there's potential for delays or unnecessary costs, and these may result in anxiety, stress and/or poor care outcomes if medical tests or treatments are missed."
While COVID-19 has limited their ability to use the bus to participate in community social programs and events, Reid adds that Willow Square residents are looking forward to using the bus to attend schools, concerts, award ceremonies and participate in more community programs and events, once deemed safe and appropriate.
"The bus provides more flexibility and access for residents to attend and participate in community events and socialize," Reid adds.
"For our continuing care residents, having transportation access to social programming is equally as important as having access to medical appointments. Participating in community social activities is certainly beneficial for their overall mental and physical health and well-being."
Willow Square residents have high praise for their new ride.
"It was great to get out and have things to look at," says Geraldine Decker. "When we went out in the community, I was able to see areas of town I know my family helped build."
Elspeth Colliar adds: "The bus is a very handy gift for the whole building to enjoy outings."
The handibus is part of Canadian Natural's continued investment in the healthcare system across the Fort McMurray region. Over the past 20 years, the energy company has donated more than $1.2 million to the Northern Lights Health Foundation through targeted donations and sponsorships.
"We're incredibly grateful for the longstanding support from Canadian Natural and their ongoing efforts to enhance healthcare, quality of life and well-being for our residents in the region," says Cindy Amerongen, executive director, Northern Lights Health Foundation.
"We're eager to see our Willow Square residents enjoying the new bus — and we look forward to continuing to work with Canadian Natural."
---
Visit the Northern Lights Health Foundation website for more information about Canadian Natural's donation.