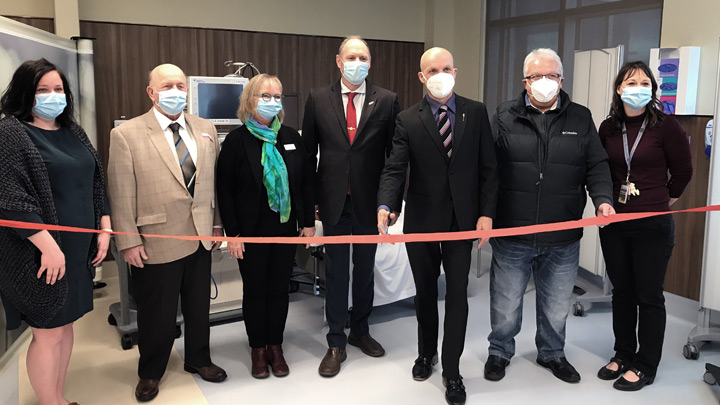 Cutting the ribbon to the new renal dialysis unit at High Prairie Health Complex are, from left: Janet Farney, site manager; Robert Nygaard, reeve, Big Lakes County; Cindy Harmata, senior operating officer, Areas 5-8 North Zone Allied Health and Seniors; Brian Panasiuk, mayor of High Prairie; Pat Rehn, MLA, Lesser Slave Lake; Barry Sharkawi, chamber president; and Kristin Dirom, unit manager, Alberta Kidney Care North.
Close-to-home care eliminates hours of costly travel
Story by Gayleen Froese | Photo by Kristin Dirom
HIGH PRAIRIE — A new renal dialysis unit is giving residents greater access to specialized treatments closer to home.
The first patients began receiving treatment at the new High Prairie Renal Dialysis Unit on Feb. 16.
"It's well-known that dialysis is a treatment that saves lives," says Dr. Verna Yiu, president and CEO of Alberta Health Services (AHS).
"What might not be as well-known is the way nearby access to dialysis improves quality of life by reducing the need for travel and giving people back valuable time to do the things that matter to them."
For many years, brother and sister Adrian and Janice Lamarche have had to travel to Slave Lake for dialysis three times a week. They're excited to have the new unit right in their community.
"This is going to make such a difference for me," says Adrian. "I'm gaining a whole day back a week. I can have a life again. I went from (travelling) over an hour each way, and it's now down to seven minutes flat, to the new unit from my house."
Chief Albert Thunder of Whitefish First Nation agrees. "Finally, we have a dialysis unit closer to Whitefish nation. With this facility, our folks won't have to travel a couple hours one way just to get the treatment they need."
The unit will begin by offering a reduced number of treatments, while staff and patients adjust to the new facility. It's expected to operate at full capacity by the end of February.
The Alberta government provided $5.2 million to AHS to build the new dialysis unit in shelled-in space at the High Prairie Health Complex. This decision followed significant engagement with the High Prairie community. Construction on the unit began in February 2021.
"This new dialysis unit will improve the range of healthcare services for High Prairie and area residents," says Jason Copping, Alberta Minister of Health.
"Today's ribbon-cutting underscores our mission to make sure Albertan's have access to quality healthcare, no matter where they live. I want thank the staff who will provide treatment closer to home and MLA Pat Rehn for his advocacy to help make this project a reality."