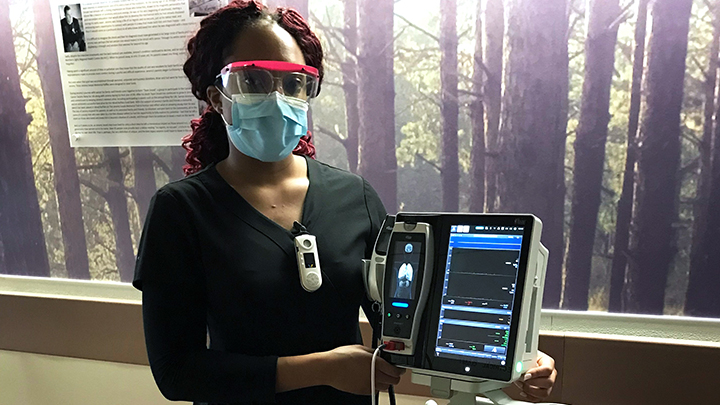 Chioma Igbokei, a Licensed Practical Nurse who works on the Medicine unit at the Northern Lights Regional Health Centre in Fort McMurray, finds the new patient vital signs monitoring equipment to be very user-friendly. Photo supplied.
Northern Lights Health Foundation funds non-invasive monitoring technology
Story by Logan Clow
FORT McMURRAY — New non-invasive equipment to monitor patient vital signs has arrived at the Northern Lights Regional Health Centre (NLRHC).
The Northern Lights Health Foundation (NLHF) provided $632,000 towards the purchase of 159 Masimo vital signs monitoring units. Features include a touch-screen display as well as non-invasive equipment to monitor blood pressure, oxygen saturation, respiratory rate and body temperature.
"This new patient monitoring equipment enhances our patient-care delivery by providing accurate, non-invasive vital signs data, ultimately leading to better patient health outcomes," says Murray Crawford, senior operating officer, Fort McMurray.
"We thank the health foundation for helping purchase and launch this equipment, and we appreciate their continued support and commitment to improving healthcare in the community."
The NLHF raised funds through their signature community events — including Spring Fling, the Festival of Trees and Hospital Bed Races — as well as from generous community donors.
"The health foundation is proud to allocate donor and event funding towards major healthcare projects that put our residents, patient and staff safety and care at the forefront," says Cindy Amerongen, NLHF executive director.
"We believe that rapid and accurate patient assessment is key to providing immediate and appropriate levels of care. We also believe that standardizing technology throughout the hospital improves the quality and safety of patient care."
Graeme Johnson and Julie Slade, biomedical technologists at the NLRHC, reviewed, calibrated and set up the units in the hospital over the past several months.
"Preparing these new units was a significant undertaking. We inspected each unit to ensure there weren't any issues with them, and worked to prepare and install all of the units throughout the hospital," says Johnson.
"These units are really quite innovative from a technological perspective — and they're fantastic in terms of their quality and user-friendliness."
Frontline staff at the NLRHC are reaping the benefits of the new equipment, including Chioma Igbokei, a Licensed Practical Nurse who works on the Medicine unit.
"Myself and many of my colleagues really enjoy how the units are user-friendly. They provide easy-to-read, accurate patient vitals," says Igbokei.
"The new equipment is also beneficial for interactions between care providers and patients. With the patient's vital signs being visible and easy to read on the monitor right at their bedside, it makes it much easier for them to better understand their care, condition, and what their vitals represent, when speaking with their care provider."
The vital signs equipment complements another hospital-wide technology and patient safety initiative that received funding from the NLHF.
In 2020, the NLHF Board allocated more than $850,000 towards the launch of a facility-wide automated medication dispensing system.
"We again sincerely thank members of our region, who continue to help us raise millions of dollars for community medical equipment, capital projects and patient programs," says Amerongen.