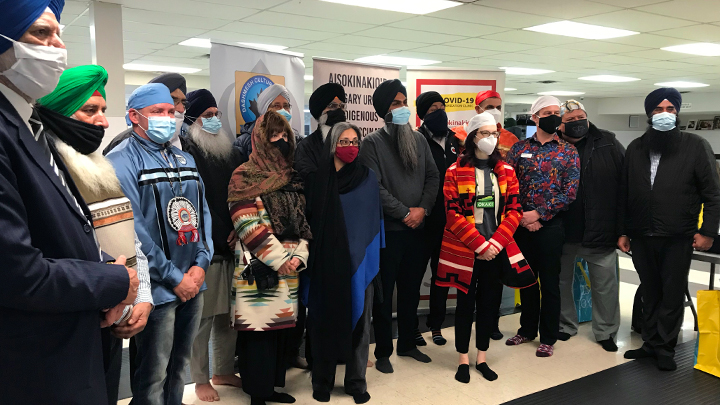 Nick Thain, third from right, senior operating officer of Community, Rural and Continuing Care for Calgary Zone, joined community partners at the Dashmesh Cultural Centre in February in support of ongoing COVID-19 immunization efforts in northeast Calgary. Photo supplied.
AHS joins Calgary groups to raise awareness, boost vaccination rate
Story by Bruce Conway
CALGARY — Punjabi and Indigenous community partners welcomed Alberta Health Services (AHS) to the Dashmesh Cultural Centre (DCC) in February to raise awareness of the ongoing effort to improve vaccine access in northeast and southeast Calgary.
Nick Thain, senior operating officer, Community, Rural and Continuing Care, Calgary Zone, joined leaders of the Aisokinakio'p clinic and Sikh communities on Feb. 4 to celebrate the work being done at COVID-19 immunization clinics which have helped create a unique partnership — and one which is vital to the overall success of the immunization effort.
"Throughout our COVID-19 response, community support and resources have been critical to our ability to provide vaccination and testing across the zone," says Thain.
"We are extremely grateful to these community partners for their ongoing work to get as many people immunized as possible."
Aisokinakio'p clinic was founded as a partnership between the Aboriginal Friendship Centre of Calgary (AFCC), Siksika Health Services, and OKAKI, later expanding to include multiple organizations including the Calgary Homeless foundation and Metis Nation of Alberta.
Since it was launched in March, 2021, the Aisokinakio'p clinic has provided more than 10,000 COVID-19 immunizations. In June of that year it partnered with the DCC to provide COVID-19 vaccines to Calgary's Sikh community.
Through the DCC's community mobilization and organization efforts, these clinics have been a great success and have contributed to upper northeast Calgary having a two-dose vaccination rate of nearly 99 per cent among those aged 12 and above.
In addition to fixed clinics it has operated in northeast Calgary and at the downtown Indigenous Hub, Aisokinakio'p also provides mobile COVID-19 immunization in homes and through pop-up clinics for marginalized community members.