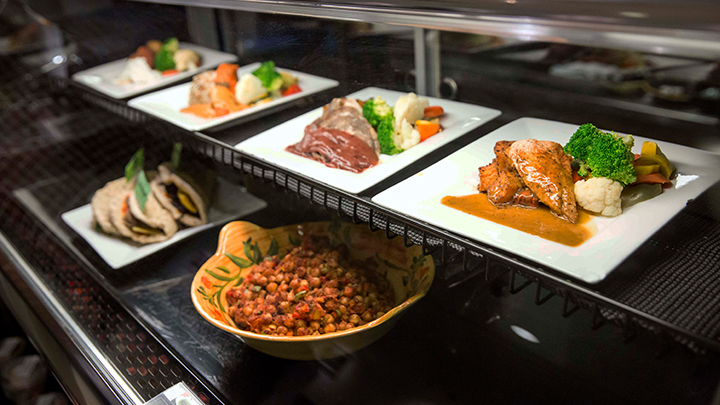 Inspired by the Healthy Eating Environment Policy, many nutritious menu choices are offered by Retail Food Services in cafeterias across Alberta Health Services' facilities. Photo supplied.
Healthy Eating Environment Policy inspires nutritious menu options
Story by Karolina Sekulic
For more than a decade, Vaishali Mahavir has dedicated herself to improving patient-centred care as a patient family advisor.
"It's a real position where I can give my opinions and share," she says.
Recently, Vaishali took part in a focus group on Alberta Health Services' (AHS) Healthy Eating Environment Policy — designed to establish and promote a healthy eating environment in its facilities. The group examined what's working well so far and heard suggestions for the future.
"Over 10 years ago, there were not the healthy food options we see now," adds Mahavir. "Back then, if my family had a hospital or clinic visit, I'd bring food from home instead of buying it at the cafeteria.
"Now there are so many options such as chickpeas, kidney beans, different noodles, a variety of salads (not just traditional lettuce and cucumber), different types of bread, couscous, spinach mixed with vegetables. So yummy!
"What I've seen is that healthy stuff doesn't get picked up as easily as the unhealthy stuff. It's common. There are still situations where (patients) just want to treat themselves and want comfort foods. However, that shouldn't discourage us at AHS from offering healthy options."
Reflecting on the progress of the past decade, Gianfranco Esposito, director of Retail Services for Edmonton Zone, says he understands his customers' needs.
"In high-stress environments such as hospitals, our customers want access to a variety of comforting, delicious, worldly and healthy foods," he says.
"It's an intricate balance we need to maintain as retail food services leaders. AHS' Healthy Eating Environment policy has helped us push ourselves to find ways to provide healthier options to our customers — while staying true to our mission of 'creating great food, inspiring healthy eating, and providing outstanding customer service to support the health of Albertans'."
"Food is an important aspect of all of our lives," says Laura Tkach, senior operating officer of Nutrition, Food, Linen and Environmental Services.
"AHS' Healthy Eating Environment Policy is intended to ensure healthy eating options are available for AHS leaders, staff, physicians, patients, volunteers, and visitors. Ultimately, providing healthy food and beverage choices is how we can support our customers in their health journey."
---
AHS' Healthy Eating Environment Policy has been in place since 2011. Read about our journey over the past decade. Steps to build a healthier eating environment are continuing with the support of leaders, staff, visitors and food vendors. Do you have comments or suggestions? Send them to healthyeatingenvironment@ahs.ca.
March is National Nutrition Month with the theme "unlock the potential of food — ingredients for a healthier tomorrow".