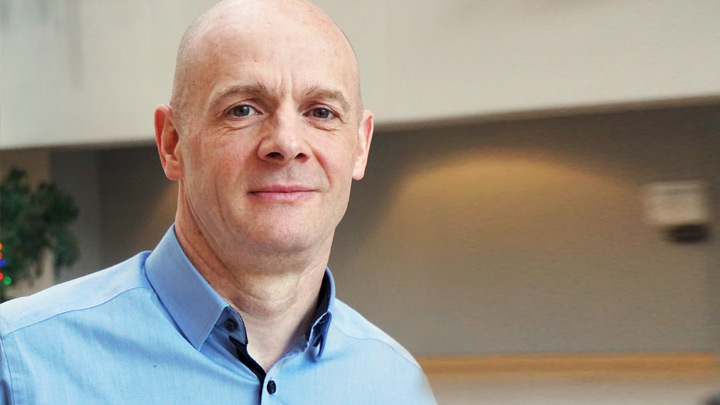 Sean Chilton is the 2022 recipient of the Nursing Leadership Award of the Canadian College of Health Leaders.
Canadian College of Health Leaders celebrates achievements of Sean Chilton
Story by Gregory Kennedy
A trailblazer and healthcare visionary has helped Alberta Health Services (AHS) garner a prestigious national nursing award from the Canadian College of Health Leaders (CCHL).
Sean Chilton is the 2022 recipient of the CCHL's Nursing Leadership Award for his accomplished career as a Registered Nurse who now serves as Vice-President of People, Health Professions and Information Technology for AHS.
His role sees him set strategic priorities and solve problems for the nation's largest provincewide, fully-integrated health system, which delivers care to more than four million Albertans.
"It's with tremendous pride that I congratulate Sean," says Dr. Verna Yiu, AHS President and CEO.
"Here at Alberta Health Services, we're very fortunate to have someone of his calibre. Although Sean leads one of the largest and most diverse portfolios in AHS, he has retained the personal touch, and is a leader who commits daily to the growth, success and the well-being of his colleagues and the nursing profession."
For almost two decades, the CCHL's National Awards Program has been showcasing the success of exemplary individuals and teams, encouraging knowledge exchange, and celebrating excellence while stimulating replication of leading practices across the health industry. The Nursing Leadership Award builds on the themes of patient-centred care and leadership, and honours those who demonstrate an ongoing commitment to excellence in these areas.
"It was a great honour and surprise to not only be nominated, but to be chosen for this award," says Chilton. "I have been given some amazing opportunities while working with AHS. The award is a testament to the great teams I work with every day."
Chilton's healthcare career started in England as a Registered Nurse and spans more than 35 years. His education and experience in nursing have allowed him to be successful in leadership roles across many distinct and unique portfolios.
Upon the founding of AHS in 2009, he took on the role of Vice President of Patient Safety for the province. Since then, he's worked as a nursing leader at the Vice President level for various programs and teams in Northern and Southern Alberta, including Chief Zone Officer of the South Zone as well as at the Director and Vice President levels of numerous programs and teams in Northern and Southern Alberta.
When disaster strikes, Sean has also successfully led AHS' response to emergencies, including COVID-19, H1N1 2009, Slave Lake forest fires and Southern Alberta floods.
In his current role, he serves as the executive sponsor for AHS' Patient First and People strategies and Connect Care, the new $1.4B Clinical Information System. He's guided AHS' Collaborative Care framework, which supports improved patient outcomes and superior staff and patient experiences.
"Sean Chilton is a truly creative leader with a wide range of clinical, operational, corporate and strategic leadership experiences," says Christian Coulombe, vice-president, marketing & membership of the CCHL. "His track record reflects his ability to inspire and shape interdisciplinary healthcare teams while creating sustainable, positive working relationships with diverse stakeholders, both inside and outside the health sector."
Chilton's influence beyond AHS is evidenced by the strong community relationships he's forged with a focus on Health Advisory Councils, patient and family advisors, regulatory bodies, post-secondary institutions, elected officials and Indigenous leaders. His commitment to mentorship and sharing experiences with staff and students is laying the foundation for the future.
"There are few people I would consider as deserving of this award as Sean," Dr. Yiu wrote in her letter of nomination. "He connects on a human level that transcends any differences in roles or titles. He is able to understand and empathize with those around him; a gift that promotes trust and a sense of belonging among his teammates."
Chilton will be officially presented with his award — along with other CCHL national winners — at a virtual Honouring Health Leadership event on June 16.