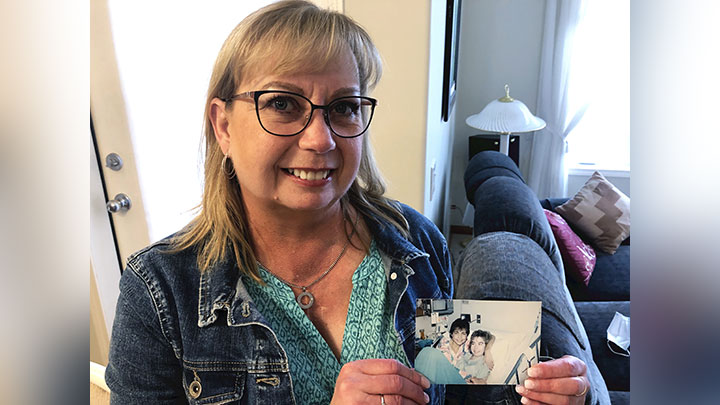 Roxanne Ferner has received four organ transplants over the last 35 years. She strongly urges people to sign up with the provincial organ donor registry and, most importantly, make sure their family is aware of their wish to donate their organs or tissues upon death. Photo by Blain Fairbairn.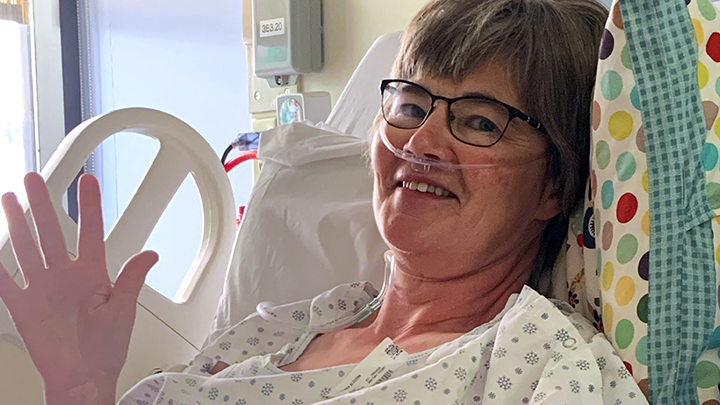 Living donor Dianna Havin gives a wave and smile in hospital prior to having a kidney removed for transplant. She viewed being a living donor as an opportunity she couldn't pass up to make a profound impact on someone's life. Photo supplied.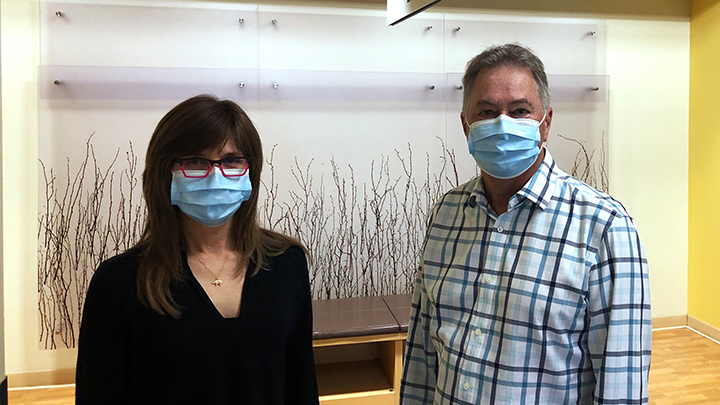 Dave Mathers revisits the Sheldon Chumir Health Centre with his living kidney donor, Nancy Langlois. He used to spend a lot of time at the Chumir on dialysis. Thanks to Nancy's generosity, those days are now behind him. Photo by Blain Fairbairn.
AHS performs record number of organ transplants despite pandemic challenges
Story & Photos by Blain Fairbairn
CALGARY — Even in the face of pandemic challenges, Alberta Health Services' two transplant programs set records and achieved a number of firsts in 2021.
The Edmonton Kidney Transplant Program performed a record number of living donor kidney transplants with 49 lives transformed thanks to generous donors. This compares to 34 in 2020, 38 in 2019, and 29 in 2018.
The Southern Alberta Transplant Program also notched a record year for organ transplants with 105 procedures in 2021 from 43 deceased and 25 living donors. Of these transplants, 103 were kidney and two were pancreas. These surpass the 97 of 2020, and 80 of 2019.
Collectively, AHS transplant teams performed 404 organ and tissue transplants in Alberta last year. Even with some living donor programs temporarily paused at times, the total number of transplants in Alberta remained relatively on par with previous years: 395 in 2020 and 433 in 2019.
"The demand for kidney transplants in Alberta is greater than our ability to recover healthy kidneys, both in the province and across Canada," says Dr. Sita Gourishankar, director of Edmonton's Living Donor Kidney Transplant Program and acting medical director, Kidney Transplant Program.
"Our living kidney donor program has significantly reduced the number of people waiting for a life-changing transplant. In 2021, the living donor program team streamlined our process for evaluation of donors and accomplished a record number of living kidney transplants. Our success is thanks to incredibly generous donors giving the ultimate gift, allowing people to come off dialysis and get back to a normal life."
Dianna Havin is one of the generous donors who bettered the life of someone she's never met. She anonymously donated a kidney last year after reading about someone in need.
"I just thought, 'this person needs a kidney, I could do this'. My family is raised, they're supportive, I'm retired, my health is good," she says. "So I had the luxury of time, the blessing of good health, and the inclination.
"It's truly worth it. That little warm feeling that I did some good in the world — there's no price you can put on that. And to think that somebody somewhere is having a better life? I would do it again tomorrow if I could."
Dave Mathers, 62, is one of the many grateful transplant recipients whose life was saved through the tremendous generosity of an anonymous organ donor. After years of dialysis to treat kidney disease, he faced a stark reality in 2018 when his kidneys failed.
His second chance came in August 2020 when Calgarian Nancy Langlois contacted his wife after seeing his billboard seeking a kidney donor. On Nov. 5, 2021 surgeons transplanted Nancy's kidney. The two have gone on to develop a unique bond that only an organ donor and their recipient can appreciate.
Perhaps no one knows better than Roxanne Ferner just how transformational organ and tissue donations can be. She received the first of four organ transplants in 1987 when she was only 17. She underwent two liver transplants within six months, then returned to the operating table in 1997 when medication from her liver transplant caused her kidneys to fail. She had her fourth transplant, another kidney, in 2013 and is now thriving. All her organs came from deceased donors.
"People need to have a talk with their family so they know what their intentions are," says Ferner. "Even if you've signed your organ donor card or registered through the provincial registry, your family still has the final say. And it's a terrible, terrible time for families to make a decision when facing the death of a loved one, but you can hopefully make that experience a lot easier if they know your wishes."
While provincial living donor programs save lives and improve the quality of life for hundreds of Albertans, the majority of organ and tissue donations come from deceased donors. There were 312 people on the organ donation waitlist in 2021 and, sadly, 50 people awaiting transplant died before a suitable organ became available.
---
This is National Organ and Tissue Donation Awareness Week (April 24 – 30).
To learn more about living donor programs and how to become a donor, visit MyHealth.Alberta.ca: About Living Donation.
Albertans are encouraged to register their intent to donate online through the Alberta Organ and Tissue Donation Registry.