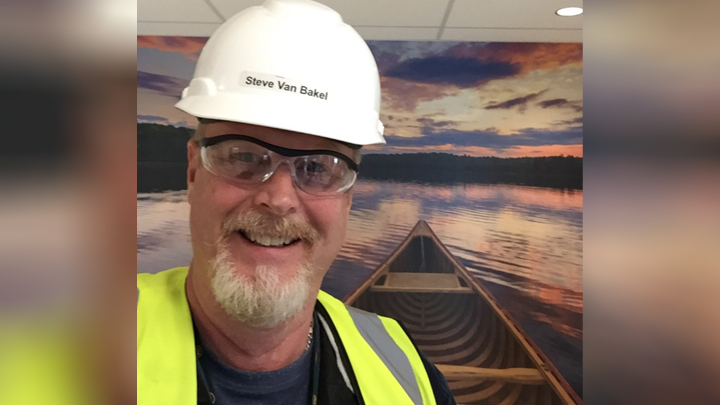 A former paramedic, Steve Van Bakel is now a planner for the new Calgary Cancer Centre. His own fight with cancer inspired him to give back by helping to bring this new facility to fruition. Photo supplied.
Battles with cancer inspired new career for former paramedic
Story by Jennifer Green
CALGARY — Working as a paramedic for many years, Steve Van Bakel was no stranger to the Foothills Campus, and came to know the staff at the Tom Baker Cancer Centre. Like most people, he didn't expect to be on the receiving end of hospital care, however, in 2005, he got the news that one in two Albertans will receive in their lifetime — he had cancer.
After a year-and-a-half of treatment for a giant cell tumour on his spine, Van Bakel decided if the opportunity ever arose to work at the centre, he would apply. "I was inspired. I loved the way the staff were at Tom Baker Cancer Centre, so when (the opportunity) came up, I jumped at it."
During his seven years as the outpatient manager, he was diagnosed with cancer again, this time colon cancer. But his second diagnosis didn't deter him from wanting to work in cancer care, it just made him more passionate.
"Shortly after returning to work, I applied and was the successful applicant as a planner for the new (Calgary Cancer Centre)," says Van Bakel. "The team is incredible to work with — and this role allows me to give back for all the care I received during my treatments."
Van Bakel is responsible for preparing the new cancer centre building for occupancy, which includes ensuring all rooms have been built to specification and that all wayfinding signs are accurate.
"I'm very excited for the new cancer centre because it's going to provide a world-class facility for cancer care for the patients and for those that provide the care," he adds.
"It will be a beautiful, uplifting facility for all patients and the healthcare workers that are so dedicated to providing amazing care. I hope I never have to visit as a patient again, but if I do, it will be reassuring knowing that this facility will be available to me, my family and friends, and to all Albertans."