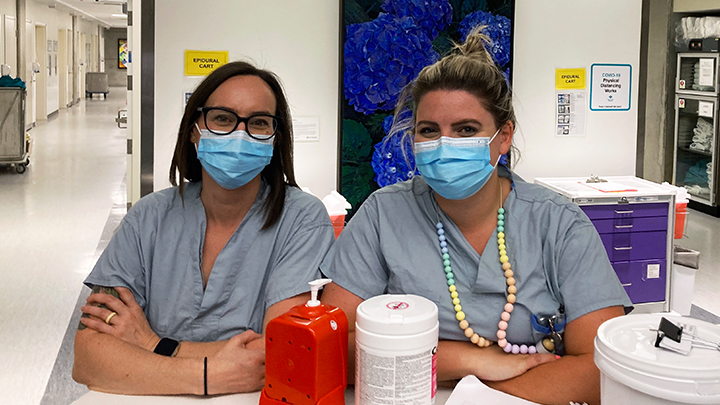 Registered Nurses Renee Booth, left, and Tatianna Zammit work on the labour and delivery unit at Edmonton's Royal Alexandra Hospital's (RAH) Lois Hole Hospital for Women. Their team stepped up earlier this year to support NWT patients who were faced with a new out-of-province delivery plan during the COVID-19 pandemic. Photo by Sharman Hnatiuk.
Lois Hole maternity team welcomed northern moms-to-be to Edmonton
Story by Adriana Amelio and Sharman Hnatiuk
EDMONTON — Expectant mothers found themselves in a dilemma earlier this year the fifth wave of COVID-19 led to staff shortages and the closure of maternity wards across the Northwest Territories.
To ensure their care, the territorial government reached out to Alberta Health Services (AHS), which immediately welcomed moms — some as close as three weeks from their due dates — to the Royal Alexandra Hospital's (RAH) Lois Hole Hospital for Women (LHHW).
"It was a huge surprise to me," says Killu Arngna'naaq, a Yellowknife resident. "I saw an article in the local paper and then I was on a plane, four weeks from my due date."
While watching over moms-to-be is all in a day's work for the Edmonton healthcare team, the increase in numbers brought a challenging caseload. Regardless, staff and physicians stepped up for Arngna'naaq and 90 others like her to provide the care and monitoring they needed as they awaited their new arrivals.
For her part, Arngna'naaq found short-term accommodations near the Lois Hole and delivered her son two weeks after coming to the city.
"Overall it was a great experience, the services and staff were awesome," she adds, despite the stress of becoming a first-time mom in unfamiliar surroundings. "I did feel that I was missing that northern context, but I really valued having an Indigenous wellness provider while I was in Edmonton."
"We know how important it is for patients to have their loved ones present or close during such an important time in their life," says Nelly Albornoz, patient care manager in Women's Health at the Lois Hole.
"Although we were experiencing higher delivery volumes and impacted by isolation demands due to COVID-19, our labour and delivery staff and physicians worked hard to ensure our NWT patients felt safe and supported while delivering so far from home."
Like most of the mothers who came to Edmonton between January and March, Arngna'naaq returned to Yellowknife after delivery and completed her post-natal care at home, with a follow-up call from an AHS nurse.
"While it was super-scary leaving my small community, I had a great experience. I'm very grateful that Alberta helped us out during this time."