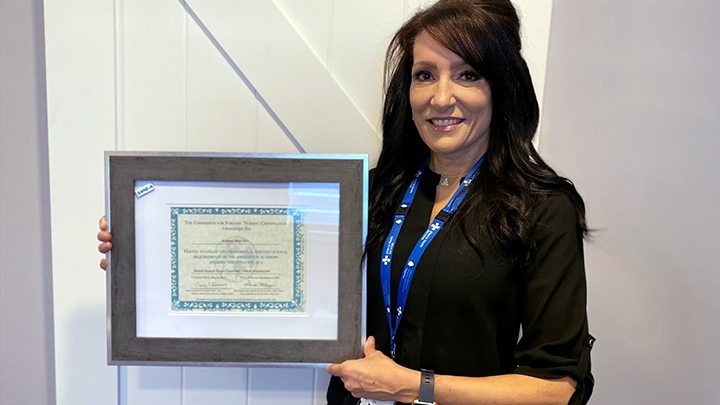 Ronnie Biletsky — a member of the Central Alberta Sexual Assault Response Team and the Domestic Violence Program coordinator at Red Deer Regional Hospital Centre — is the first nurse in Central Zone to earn the Sexual Assault Nurse Examiner-A certificate. Photo supplied.
Red Deer nurse's expertise improves care, compassion, choice
Story by Yolanda Genu
RED DEER — When Ronnie Biletsky earned her Sexual Assault Nurse Examiner-A certification (SANE-A), she became only the sixth nurse in Alberta and one of only 52 in Canada to achieve the credential.
As a member of the Central Alberta Sexual Assault Response Team (CASART) and the Domestic Violence Program coordinator at Red Deer Regional Hospital Centre (RDRHC), Biletsky is now using her experience, expertise and credentials to train other nurses to provide specialized support to patients who have experienced sexual assault.
"It was not an easy task, and it was the hardest examination I've ever taken," says Biletsky, who received her SANE-A certificate in May 2021. She's been the CASART coordinator since 2008, adding the Domestic Violence coordinator role in 2010.
"I'm proud to be the first nurse to get the certification in Central Zone — and I was determined to get it."
Offered only in the U.S., the SANE-A accreditation program required not only experience in the field, but a study of U.S. law and an intense examination.
As part of the CASART team at RDRHC, Biletsky provides specialized care for patients experiencing sexual violence as well as medical examinations and forensic evidence collection through the emergency department.
"There aren't many nurses who've gone through the process. The classification is a feather in her cap, giving her a real level of classification in her work with expert status," says Julie Hansen, area manager, Public Health in Central Zone for Health Promotion, Comprehensive School Health and Sexual and Reproductive Health, CASART and Domestic Violence.
The SANE-A certification also allows Biletsky to train other registered nurses to be part of the CASART Program, which became a SANE nurse-led team in 2018. SANE nurses have advanced training and education in forensic examinations of sexual assault victims/survivors. The team of 10 provides 24/7 on-call sexual assault response for the entire zone. Patients are offered a medical examination for injuries, testing and treatment as well as the option of a forensic examination for evidence.
Patients may also choose the Third Option, which permits forensic-evidence collection within seven days of the assault, which is then stored confidentially for up to one year while patients decide if they wish to move forward with a report to police.
"Patients are given undivided attention to help them decide what's best for them," adds Biletsky "It is a patient-centred decision, and it gives the patient the gift of time to decide.
"It's paramount to make patients feel comfortable after the traumatic ordeal they've experienced. We tell them we're here to support them — and that we're here in their corner."
For people who've been cared for by Biletsky and her team, the care and support provided cannot be overstated.
"I felt a strong, energetic, positive support that I've never experience in my lifetime," says A, whose name has been withheld for privacy reasons. "They were very patient with me and knew how to help me under extreme trauma of all levels of pain I was experiencing. I know I was in shock, and yet your team made me have hope again, and brought my dignity and spirit back to me. And yes, I'm now on a healing journey and know that I can move forward one day at a time.
"If I had tons of money, I would give a medal of courage to these two ladies, because their job is definitely not easy — and it must be difficult to see others in trauma. They are true heroes."
Biletsky also works with the Central Alberta Child Advocacy Centre (CACAC), a multidisciplinary team that works alongside multiple organizations and professionals, to provide wraparound supports and services to families and children experiencing trauma.
"We at the CACAC are so honoured to work with Ronnie," says Mark Jones, its chief executive officer. "She goes above and beyond for everyone who comes into her care. She's not only a tremendous asset to the CACAC, but our community as a whole. She's such an awesome person and her drive to help people is commendable.'
Hansen adds: "Ronnie loves to help people. Working with her and being around her is inspirational due to her passion, work ethic and commitment to the community. She creates programs and continually finds different ways to support people in very vulnerable times. Our community has benefitted greatly from the care provided by Ronnie and the CASART team.
Despite the high praise and significance of her achievement, Biletsky remains modest and focused on helping people in need.
"There's nothing more rewarding than supporting someone who could be going through their worst day, and they say 'thank you' to you for your kindness. It's the very best thing I've done in my career."