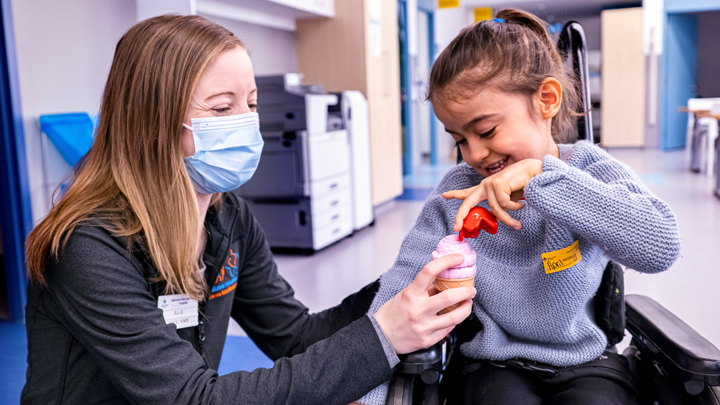 Olivia Camacho Lankaster is all smiles during her appointment with physiotherapist Julie Sorenson in the new Chadi Centre for Pediatric Rehabilitation.
New pediatric rehab centre at Glenrose a family-friendly space
Story by Sharman Hnatiuk | Photo by Evan Isbister
EDMONTON — Olivia Camacho Lankaster, a six-year-old with cerebral palsy, loves coming for her therapy appointments in the new Chadi Centre for Pediatric Rehabilitation at the Glenrose Rehabilitation Hospital.
Last year, the young Edmontonian had her rehabilitation moved within the hospital to the newly-opened Chadi Centre, a family-friendly space designed to support pediatric patients with targeted therapy throughout childhood and those recovering from serious accidents and illnesses. The $1.9-million centre was fully funded by the Glenrose Rehabilitation Hospital Foundation.
"The new space is wider and more accommodating for wheelchair patients like Olivia," says Helen Lankaster, her mom. "With Olivia's occupational and physical therapy appointments in one space, we can combine a one-hour appointment easily with both therapists. There's so much light, support and positive energy in this space, which is exactly what brings families to the Glenrose."
The centre features specialized care spaces — such as a pediatric gym, eating treatment area, and splinting and casting room — staffed by a multi-disciplinary team of allied healthcare rehabilitation professionals. They dedicate their efforts to help children and youth live well, build resilience and take part in activities that are meaningful to them and their families. About 6,000 patient visits are expected at the centre every year.
"The new environment invites parents to observe their child's treatment, contribute to the therapy, and learn about how to extend therapy into the home," says Curtis Perrott, director of Pediatric Rehabilitation at the Glenrose. "Our patients and families tell us they are more comfortable — and you can see it in the kids' faces."
Lankaster always takes a moment to admire the names on the donor recognition wall during Olivia's appointments. She's grateful there are people in her community who want to create a space for kids like Olivia to brave, happy and do the work they need to do to grow stronger.
She adds: "Thanks to their support, the colours, light, and state-of-the-art equipment can now match the quality of professionals providing care in the Chadi Centre."